Modern Segregation: 60 Years after The Little Rock Nine 
By Elizabeth Tuten Sept. 25, 2017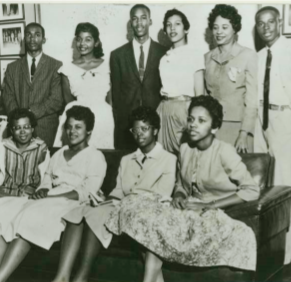 The BBC posed the question, "Why don't black and white Americans live together? . . . Americans of different races aren't neighbors—they don't go to the same schools, they don't shop at the same stores, and they don't have access to the same services."  
These words likely bring to mind antiquated footage of the segregated American South, but they were written in 2016 about the nation as a whole. The New York Times reports that in 2017, 90 percent of black students in Washington, D.C. and 81.7 percent of black students in New York City attend segregated schools, which are defined as being less than 10 percent white. Throughout the country, school districts with more students of color receive 15 percent less state and local funding than majority white districts, offer fewer AP and honors courses, and are otherwise lacking in the opportunities and technologies found in predominantly white schools and communities.  
Today marks the 60th anniversary of the day Melba Pattilo Beals, Minnijean Brown, Elizabeth Eckford, Ernest Green, Gloria Ray Karlmark, Carlotta Walls LaNeir, Thelma Mothershed, Terrence Roberts, and Jefferson Thomas—escorted by the 101st Airborne Division and the Arkansas National Guard—walked into otherwise all-white Little Rock Central High School. In her book Warriors Don't Cry, Melba Pattilo Beals describes having acid thrown in her eyes and being burned by little pieces of flaming paper dropped from above by white classmates.  
Legal segregation may have ended with Brown v. Board, but total integration is no more a reality today than it was in 1957. New York Times journalist Nikole Hannah-Jones describes modern segregation as upheld through both structural and systemic inequality and by individuals who prioritize securing their own children's access to certain schools over demanding better public schools for all children.  
One has to look back further than 1957, to the New Deal and the policies that purposely segregated neighborhoods, to fully comprehend how such dramatic racial and economic disparity still exists in 2017. The Federal Housing Administration not only subsidized builders who refused to sell the homes in their mass-produced subdivisions to African Americans but also engaged in what today is called "redlining," a practice in which agencies outlined minority neighborhoods in red for "high risk," and refused home loans to residents of these neighborhoods.  
Making on average only 60 percent of the average income of white people today, many black Americans have still not recovered from the state-sponsored segregation of the 1930s that denied them the personal wealth and equity that funded the growth of the white middle class.  Until Americans take real action towards full integration of our communities, economic stagnation and lack of opportunity will continue to weigh down the dreams and dash the futures of children of color.  
Communities In Schools works to provide the missing resources that make Title I schools unappealing to parents who have a choice and that disadvantage the children of parents who don't have a choice. CIS is in 2,316 underfunded schools, and 84.8% of those students served are of color.  Through targeted interventions that surround at-risk students with support and resources, CIS is working towards a future of educational equity. CIS site coordinators are in schools every day, moving the needle on racial and economic disparity by facilitating regular attendance, connecting students to mental and physical health services, providing tutoring and college application assistance, and being the caring adult every child in America deserves to have in their corner.   
Today CIS recognizes and honors the nine brave students who became the martyred figureheads of the battle for educational equality that is still being fought today. You can do the same by learning more about The Little Rock Nine throughout September 25th at @cisnational.  
Photo by: Cecil Layne, The Library of Congress 
Are You #AllinforKids?

 
Join our community of changemakers and stay connected with us! 
Learn more about the work Communities In Schools is doing to empower and equip every student to take on and tear down the barriers that stand between them and an equitable path to education. 
↑

TO TOP