Beyond the Basics, Students Experiencing Homelessness Need Safe Spaces and Caring Adults
By Elizabeth Tuten Nov. 21, 2017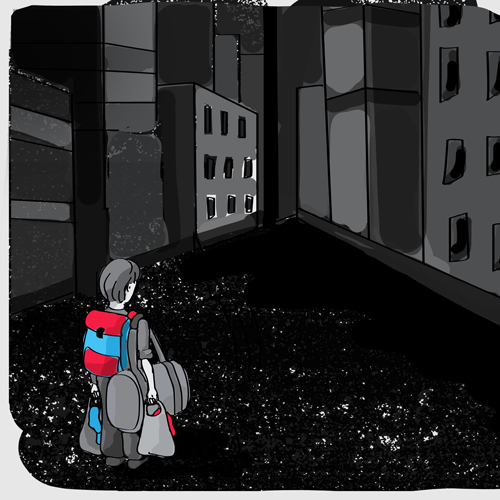 Think of the house you will enjoy this holiday season—is it the four walls and the roof that make that place feel like home, or is it the knowledge that you're safe, secure, and surrounded by people who care for you?  For homeless students who are missing this sense of safety and care, the negative emotional impact can outlast the period of homelessness.
America's Promise Alliance recently conducted a study of one hundred and fifty-eight 18- to-25-year-olds who experienced homelessness at some point during their middle or high school years. Of those surveyed, 72% reported inability to feel safe and secure; 71% reported adverse effects on their mental health; 62% reported a deterioration in physical health; and 69% said that homelessness damaged their self-confidence. Additionally, most respondents cited difficulty maintaining relationships with family and friends and struggled in school during this time.
While the impacts of homelessness can be mitigated with intervention, the study also shows that nearly half of those surveyed found it "very uncomfortable" to tell anyone at school about their situation, and four in ten told no one. If fear and stigma keep young people from revealing their situation, it is imperative that caring adults are in schools to create safe spaces where students feel comfortable asking for help.
CIS site coordinator Anna Albonetti is that caring adult for many middle schoolers in Memphis, TN, where she sees job loss, domestic violence, and the death or incarceration of a guardian leave students without homes. Anna and two school counselors work quickly when they see consistent late arrival, dirty uniforms, frequent requests for snacks, napping during class, or lack of transportation—all hallmarks of homelessness.
This swift intervention came just in time for eighth grader Duane*. Having moved to Memphis just two weeks before school started, Duane found himself in new surroundings without stable housing or consistent meals. Once he was in school his self-confidence suffered from a lack of personal care products, uniform changes, and school supplies.
Anna connected Duane and his mother to community partners who were able to assist with emergency housing aid and monthly personal care kits, new uniforms, weekly take-home meals, and a voucher for glasses.
But Duane would need more than food and clothes to overcome his challenges. Anna has noticed a difference in emotional needs between her students who have secure housing and those who do not. "With a lack of stability, it's hard for students to relax into a routine. They seem to stay at attention, waiting for the next change of plan." Anna says it's challenging for homeless students to build friendships and commit to school when they are accustomed to uprooting before they can become comfortable with their new environment. 
"Our students have to grow up early when they experience homelessness. They may already have adult responsibilities and expectations at home that make coming to school and being treated like a child very confusing . . . they have to play two completely different roles in a day."
One of Anna's goals is to create a physical space where these students can relax, be kids, and feel safe. A wall of nature photography, upbeat Motown music in the background, fun chairs, and lots of fidget toys and coloring books make Anna's room a place that students want to be. "I let [students] know that they can always come talk to me about anything on their mind. . . I try to focus on giving them a safe place to feel however they feel." 
Anna thinks more trauma-informed care trainings would help teachers and staff understand the reasons behind the problematic behaviors that often arise when a student is experiencing undue stress. "I'd like to see more teachers and staff change their question to students from "what's wrong with you?" to "what's happened to you?"
Finding a safe space and a caring adult at school empowered Duane to answer this question honestly and get the help he needed. By the end of the school year his family had stable housing and no longer needed help with basic needs. Duane ended the year with nearly perfect attendance, feeling strong and confident in his ability to adjust and thrive in new surroundings.
In the 2015-2016 school year, CIS case-managed 5,692 homeless students. Donate today to support programs that empower students to overcome their obstacles.
Are You #AllinforKids?

 
Join our community of changemakers and stay connected with us! 
Learn more about the work Communities In Schools is doing to empower and equip every student to take on and tear down the barriers that stand between them and an equitable path to education. 
↑

TO TOP