The Youngest Victims of the Opioid Crisis
By Elizabeth Tuten Nov. 2, 2017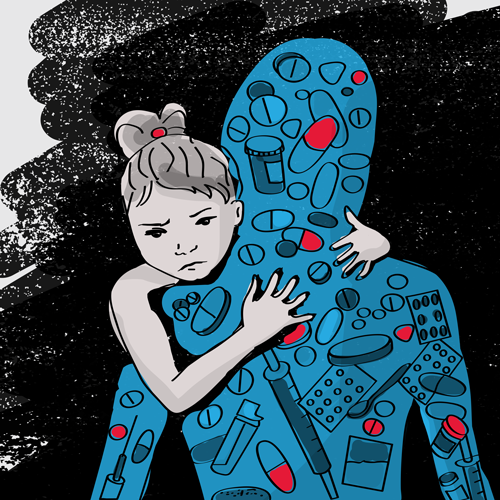 Though the White House declared the opioid crisis a public health emergency only last week, families across the nation have felt the effects of opioid addiction for decades. Often relegated to a footnote in this important conversation are infants, children, and teens—the collateral damage of crises like this one. Youth are often confined to the chaotic lives of their addicted parents. They witness overdoses, suffer negligence, and are in dangerous proximity to the drugs and accompanying paraphernalia. 
Without individualized intervention by a caring adult, the children of addicted parents will struggle to succeed academically and will be more likely to fall prey to addiction themselves.
Those who attempt to help children of addicts are often presented with moral dilemmas: Is it worse for the children to live with an addicted parent, or to enter the over-burdened foster system? If a child receives food or clothing, will the resources be taken and sold for drug money? 
These are the questions that plague people like Grace*, a Communities In Schools site coordinator. On the day we spoke, Grace had given a little boy a new pair of shoes and a pack of socks:
"His foot was coming through his old pair of shoes. I put him in new ones and told him to take them outside to scuff them up, get them dirty so they couldn't be sold. I told him to keep his socks in his backpack. We're hiding socks [from his family], for goodness sake." 
For Grace, this interaction is one part of something much larger.  "I call it 'the cycle," she says of the way opioids infiltrate every stage of childhood and adolescence. 
Babies who are born addicted because of their mother's drug use often experience developmental delays and learning disabilities that affect them far beyond infancy. Attention deficit and hyperactivity disorders, neurological impairments, and behavioral issues are becoming more common in classrooms as the addiction crisis expands.
Addiction also causes an unstable home life and negligence, which in turn can lead to chronic absenteeism and impaired cognitive development. Not only does getting to school become a problem, but toxic stress syndrome—when the brain has experienced consistent stress during early development—impairs focus and learning capabilities. 
For older kids, embarrassment over their situation, guilt that they cannot help their loved one, and fear that they, too, may fall prey to addiction is overwhelming. On a practical level, homework is hard to do if the utilities are cut off, if an extra work shift can be picked up to pay for food, or if a younger sibling needs to be taken care of. Permission slips for programs and aid go unsigned, and in-person attempts to help are met with apprehension and silence.
"They're raising themselves and taking care of each other," Grace says, "We see lots of hording of food . . . These kids are in survival mode, and their parents are the biggest barrier." 
"These kids are coached on what not to say. It takes longer to get kids to open up because they've been trained to hide their parent's habit . . . I've heard kids tell stories about staying indoors with the door locked when they're home." 
Grace dreams of a place where children of addicts can go after school to escape their home lives for a few more hours; a place where they have regular access to resources and caring adults. Afterschool programs provide a safe place for many students particularly for students whose homes are fractured by issues like addiction – but afterschool programs alone will not break the cycle of addiction. 
More accessible and affordable trauma-informed care for students, like that provided by many Communities In Schools' trained in-school mental health counselors, provides a safe outlet for children to articulate what is happening at home without fear of betraying their parents. Site coordinators such as Grace advocate on behalf of the child, ensuring their basic needs are met and their mental health is addressed in addition to working with the school to identify opportunities to intervene at home.
There is no simple solution to this insistent and inclusive epidemic that is affecting American children of every region, age, and color. But by continuing to place caring adults in the lives of these young people and by expanding access to afterschool programs and mental health services, we can illuminate an alternate path for those living in the shadow of their parents' addiction. 
If you or someone you know is struggling with opioid addiction, call the National Helpline at 1-800-622-HELP (4357). 
*Name has been changed 
Are You #AllinforKids?

 
Join our community of changemakers and stay connected with us! 
Learn more about the work Communities In Schools is doing to empower and equip every student to take on and tear down the barriers that stand between them and an equitable path to education. 
↑

TO TOP