When Trauma and the Holidays Collide
By Elizabeth Tuten Dec. 6, 2017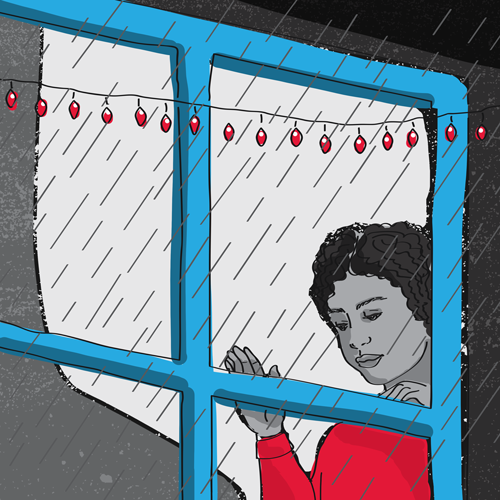 As the season of light and giving begins, communities throughout America are seeking hope in the aftermath of tragedy and loss. For those most impacted by Hurricane Harvey, anxiety and grief are juxtaposed with lights and festivities as both physical and emotional recovery continue. When the waters first began to recede, residents operated in survival mode, seeking out necessities and surveying damage. But as shock wears off and exhaustion takes its place, the mental effects of the disaster begin to surface. 
CIS of Houston is accustomed to providing extra support for their families during the holiday season, a time of depression and anxiety for many parents who are unable to provide the traditional holiday experience for their kids. Frustration and sadness weigh on the students as well, particularly the older kids who know that winter break means eating fewer regular meals and missing the structure and support of school; not the time of lights, parties, and gifts experienced by many of their peers. To ease this disparity each year, CIS of Houston site coordinators collaborate with corporate partners who sponsor toy and gift card drives so that every student receives a gift. Site coordinators also encourage students and their families to take advantage of the mental health services CIS of Houston offers, such as facilitated group conversations, to work through the difficult emotions that surface during this time of year. 
In the wake of Harvey, many more families will experience the anxiety and depression that accompany a lack of resources; A box of decorations may not seem like a great loss in the midst of such tragedy, but the coming season will feel barren for those whose beloved traditions were washed away. For those still grappling with loss of life, of home, and of possessions, the seasonal reminder will likely inhibit emotional recovery.
"As recovery progresses, we're going to see more need around trauma," says CIS of Houston's Director of Mental Health and Wellness, David Head. At one school, teachers begin each day with "Circle," a chance for each student to speak about their recovery experience. When kids seem in need of additional support, the teacher refers them to on-site CIS mental health professionals. Through trauma-informed care techniques like mindfulness and individual and small-group therapy, CIS staff and additional mental health counselors are prepared to help students face their emotions. 
"The danger is in disassociation—we know so much about the effects of unaddressed trauma," David says. Not only is disassociation bad for students' physical and mental health, but they cannot learn when they are persistently afraid or emotionally withdrawn or if their stress response is easily triggered. The Center for Disease Control's landmark Adverse Childhood Experiences study links the toxic stress of unaddressed trauma to heart disease, liver disease, and mental, emotional, and behavioral disorders. 
Holiday support for students and families this year will be an intensified version of what the community has come to expect from CIS of Houston. More mental health personnel have been hired to expand trauma-informed care services in new and existing CIS-supported campuses, and the usual winter coat and toy drives are coming from all over the country rather than only from local partners. 
While the CIS model is crucial for many students every day, CIS becomes an especially invaluable resource for communities trying to return to normalcy after disaster strikes. CIS of Houston CSO Lisa Descant explains it best: "The CIS model is prepared for response. We are already coordinating with partners, we have mental health services, we are embedded in communities, we are school based, we have already identified the kids who will have a harder time rebounding. Our normal operating system is set up to handle these kinds of obstacles." 
Though the road to recovery is daunting, CIS of Houston project manager Mary Pizana remains hopeful: "Kids are so resilient. Everyone is moving forward. People have been so giving, and that gives us hope, Kids' sense of charity and responsibility for others has grown immensely; we hope they've learned what it means to give and—more importantly—that it's OK to receive." 
Donate today to support programs such as mental health and trauma-related care services. When you donate to CIS, you can be confident that 90% of proceeds go directly to programs such as these. 
Are You #AllinforKids?

 
Join our community of changemakers and stay connected with us! 
Learn more about the work Communities In Schools is doing to empower and equip every student to take on and tear down the barriers that stand between them and an equitable path to education. 
↑

TO TOP