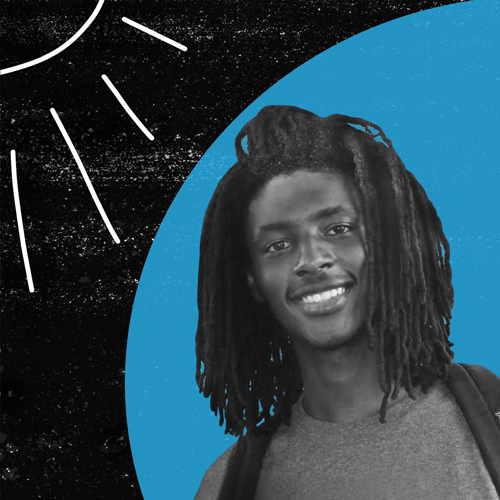 When Chris unexpectedly lost his mother his sophomore year, he sank into a depression. "I was just going through the motions of high school. I wanted to go to college, but I didn't know how to apply," he says in retrospect. Chris kept up his grades despite his grief, but he felt emotionally shut down for the next year. CIS site coordinator Ms. Richter and CIS program manager Ms. Liberty noticed Chris' struggled and stepped in to him navigate this difficult time.  
By the spring semester of his junior year, Chris not only had Ms. Richter at school checking in on him, but had also found a community through CIS of South Central Texas' Project Success, a two-year program led by Ms. Liberty to help high school students prepare for and enter college. "It was a time to weigh our options and build direction. We did college visits, [admissions] testing, and filled out waivers for financial aid," Chris remembers.  
During the summer, Chris participated in Bootcamp, a more concentrated version of Project Success that helped rising college freshmen develop the necessary skills to succeed after high school. Part of Bootcamp was getting a mentor, who was a familiar face to Chris: "I knew Marcus already, we'd played football together and he helped show me around campus when I first came to the school. It felt natural for him to help me transition into college," Chris says. "Marcus is a business major too—he told me to take everything in life as a lesson and use it to grow. He told me that college would be hard but worth it."  
Once Chris started college, he and Marcus had monthly check-in calls. "If I need something, I know I can call or text him. I could see a difference between me and some of the friends I met in college who hadn't had mentor support," Chris says. He had been warned in Bootcamp that the temptation to dropout would arise, but with the support of his mentor Chris kept pushing forward.  
His sophomore year of college Chris got two mentees of his own. "I felt like if my mentor had taken the time to help me, I could do the same thing for the next group of students going to college," Chris says of the easy decision to become a mentor himself.   
Chris is especially proud of helping one of his mentees cope with being truly on his own for the first time. "I helped him put it in perspective: being so far apart makes you realize how important family is. We also talked about prioritizing school over work, even when the money feels good. I told him, 'money is there to get you through school, not to pull you away from it,'" Chris recalls.  
Just as Chris knew he could call Marcus anytime, Chris makes sure his mentees feel that they can count on him to be there for them. "Having mentors tell us what to expect based on their experience was very helpful. Redistributing that information along with your own experience is rewarding. You build a bond, you want to help them; it doesn't feel like an obligation. It's a different level beyond friendship—it's support." 
Now a senior at Texas A&M Corpus Christie, Chris is preparing for graduate school where he will study accounting and continue to mentor younger students.  "A mentor is someone who doesn't control you or tell you which direction to go," Chris says, "they just provide you with their knowledge and experience and help you make your own decisions. Sometimes you have to fall on your face to learn. Mentors help you get back up." 
Find your local CIS affiliate and become a positive agent of change in the life of an at-risk student.  
Are You #AllinforKids?

 
Join our community of changemakers and stay connected with us! 
Learn more about the work Communities In Schools is doing to empower and equip every student to take on and tear down the barriers that stand between them and an equitable path to education. 
↑

TO TOP