Six Tips for Responding to COVID-19 Learning Loss This Summer and Beyond
By Gloria Andela July 30, 2020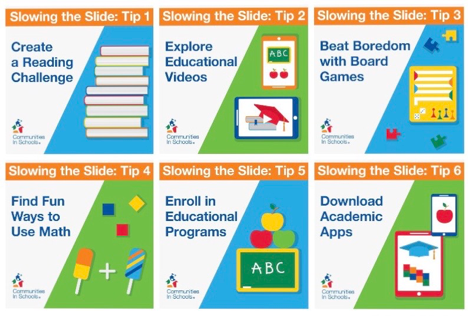 When the coronavirus (COVID-19) pandemic shut down schools, educational programs across the world were uncertain about the future of learning for their students. Many school districts here in the U.S. migrated to distance/virtual learning and had to find creative ways to support their students. The economic consequences and the trauma of recent events continue to impact many students and their families.
Communities In Schools® (CIS™) will do whatever it takes to help students reengage in learning, recover from the emotional trauma of the last several months, as well as reimagine their learning environments so they're safe, effective, and equitable. Through the Summer and into the school year, CIS will continue to connect students with community resources like food, housing support, health care, materials to help them to continue their learning, and emotional support. CIS will continue to be a constant presence in the lives of our students and their families.
The summer months are often filled with outdoor educational opportunities, memories of new friends who come on summer trips, new skills in sports clubs, and new family holiday experiences. But this summer, many students and their families found themselves at home wondering about the upcoming school year. CIS understands that during these uncertain times, many low-income families and working parents are looking for affordable alternatives to ensure that learning loss is prevented.
What can caring adults do to support students through the summer into the unusual back-to-school season? Here are 6 ways to reduce COVID-19 learning loss and to supplement virtual learning as kids prepare for a school year either in the classroom or virtually: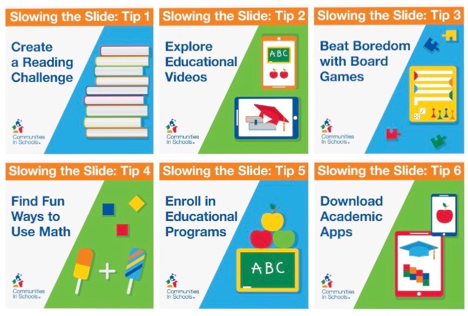 Are You #AllinforKids?

 
Join our community of changemakers and stay connected with us! 
Learn more about the work Communities In Schools is doing to empower and equip every student to take on and tear down the barriers that stand between them and an equitable path to education. 
↑

TO TOP