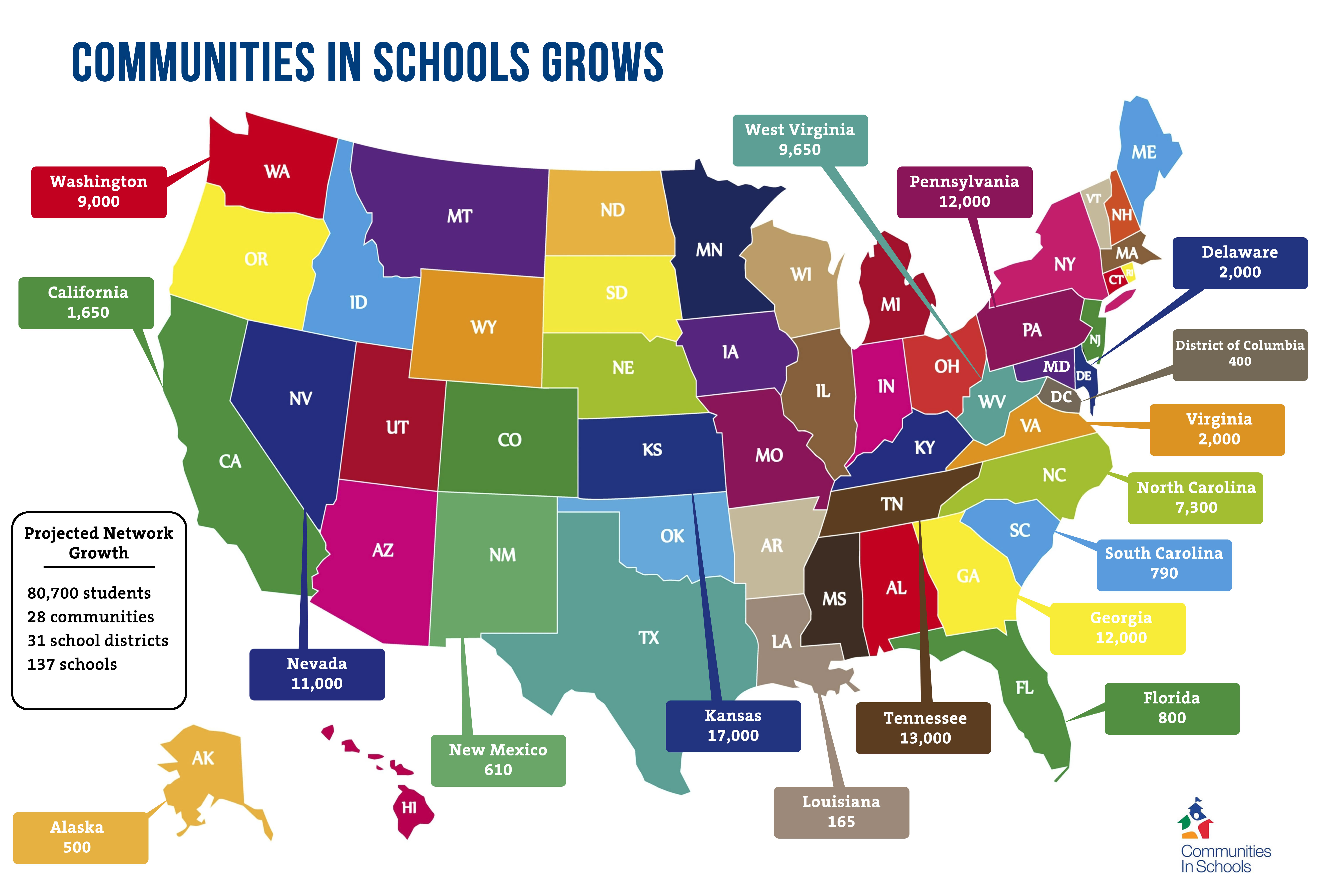 Communities In Schools (CIS), the nation's leading dropout prevention organization dedicated to helping kids stay in school and achieve in life, today released a preliminary report on its expansion for the 2014-2015 school year. (Click to see full-size growth map.)     
The expansion comes as school districts across the country are seeking CIS affiliates to help provide critical services to meet the needs of kids most at risk of dropping out.  Demand for those services coincides with both a new report this fall from the Department of Education indicating student homelessness is at a record high and a new U.S. Census report showing that  nearly one in five children in the U.S. is living in poverty.
Affiliates of the Communities In Schools network are expanding in the 2014-2015 school year to serve an additional:
80,700 students
28 communities
31 school districts
137 new schools
The expansion means more than 1.3 million students will now benefit from the support of trained site coordinators working inside these schools.  The site coordinators  connect students and their families to educational and community-based resources, tailored to each student's specific needs. 
"We know that some of our kids are coming to class unable to focus on learning because they don't have food at home, someone to help them with homework or even a safe place to stay,"  said Gary Chapman, executive vice president of the Communities In Schools national network.  "This expansion demonstrates our commitment to give more of these kids the resources they need to succeed in school. As a leading national network proven to effectively decrease dropout rates and increase the rate of graduation, we are thrilled that school and district leaders appreciate the full value we can bring to their communities."