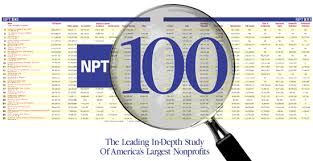 Communities In Schools (CIS), the nation's leading dropout prevention organization, appears for the first time in this year's NonProfit Times Top 100 - an annual survey of the nation's largest nonprofits.
The 26th annual study of the largest nonprofits in the United States is a snapshot of organizations based primarily on Internal Revenue Service (IRS) Form 990 filings for the Fiscal Year Ending 2013. It is widely seen as a barometer for the financial health of the nation's nonprofits.
Communities In Schools appears as #93 on the list. Although CIS compiled financial data specifically for the report, data from 30 of nearly 200 affiliates was not available in time to include in the final submission. 
Total revenue for nonprofit organizations in the 2014 NPT Top 100 totaled approximately $74.726 billion, about 7.75 percent more than the previous year.  The NonProfit Times reports that revenue for the nation's largest nonprofits has continued to recover since the recession, backed by a slow but steady return for donations last year and buoyed by more gains in investment income and continued growth of program service revenue. To see the full list, click here.