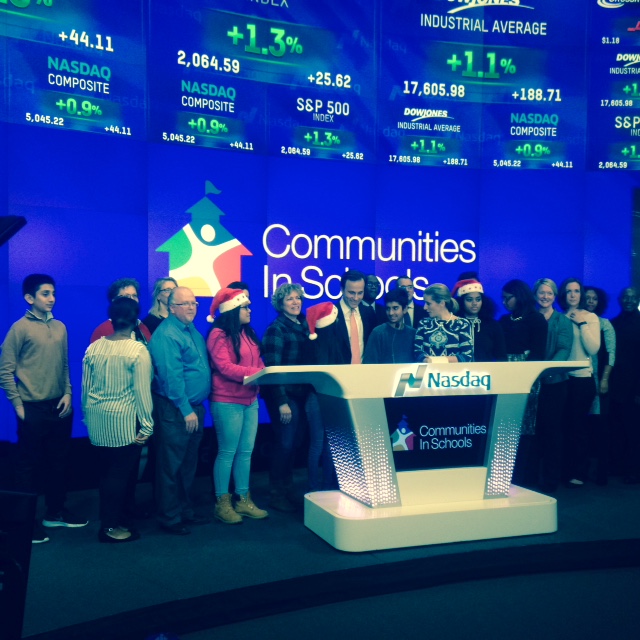 Communities In Schools (CIS) leaders, students and site coordinators rang the Closing Bell at the Nasdaq MarketSite in Times Square today to mark the start of the holiday break for kids across America and to raise awareness of efforts to help more low-income students stay in school. 
CIS National Board Member Chris Allwin was joined on the Nasdaq podium by national office leaders, state directors, students and some of the school-based site coordinators who work with students in 25 states and the District of Columbia.  Allwin said the start of the holiday break was an ideal time to focus attention on the barriers poor students face to stay in school and succeed in life.
"Low-income students now represent the majority of kids attending public schools today," said Allwin. "They come to school hungry, lacking food and school supplies or needing a caring adult in their lives. Our site coordinators provide these students with the help they need so they can focus on learning and avoid dropping out.  The holidays represent a time when many of these kids won't have access to these supports and so we should be reminded of the importance of this work. We hope our presence at the Nasdaq also reminds business leaders, corporations and foundations that we need to invest in programs like Communities In Schools that are proven to help students graduate and be ready for college and careers.  
Allwin noted the evidence pointing to the success of Communities In Schools.
99 percent of case-managed students served by CIS stay in school
93 percent of K-11 students who are monitored by CIS are promoted to the next grade
91 percent of eligible seniors supported by CIS graduate
The cost to states and districts is minimal—as little as $159 per student per year
The Nasdaq Closing Bell represented the second opportunity for Communities In Schools to speak to the business and financial community in 2015.  Almost one year ago, on January 5, 2015 CIS was invited to ring the New York Stock Exchange Opening Bell.  Click here to read about the NYSE ceremony.