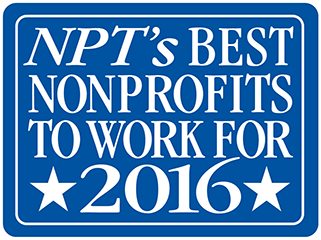 Communities In Schools (CIS), the nation's largest and most effective dropout prevention organization, has been ranked No. 10 on the national list of the "Best Nonprofits to Work" for in 2016 by The NonProfit Times (NPT), the country's leading publisher of news, information and research about the nonprofit industry. 
Communities In Schools President Dan Cardinali called the ranking a special recognition of the hard work and dedication of the national staff.     
"Driving impact to change life-trajectories for some of the nation's most disenfranchised students is tough work. It is only sustained because of staff's deeply held social justice values and commitment to love," said Cardinali. "The CIS National Staff deeply believe that these values start in the workplace and are the "secret sauce" to driving our national impact.  It's through the collective commitment to these values that animates this work every day and actually drives the results we strive for throughout our network."  
Last year, the national office of Communities In Schools was recognized on NPT's Best Nonprofits To Work list for the first time in the organization's history and ranked #15 out 50.  Among  medium sized organizations with 50-249 employees, the CIS National Office ranked #5 in 2016 and 2015.  Competition for inclusion on the Top 50 list requires employers to submit a nomination containing two parts:  an extensive organizational profile regarding benefits, culture, compensation, workplace policies and demographics as well as an employee engagement survey.  The nomination process is managed by the Best Companies Group, an independent workplace research firm.
Communities In Schools is a network of 161 locally operated affiliates in 25 states and the District of Columbia serving 1.5 million students in 2,300 schools.  Working directly inside those schools, CIS site coordinators identify students at risk of dropping out, assess what non-academic barriers are preventing them from learning and then connect them with community services. 
CIS has also earned a 4-star rating for the sixth consecutive time from Charity Navigator, a distinction based on its sound fiscal management practices and commitment to accountability and transparency.