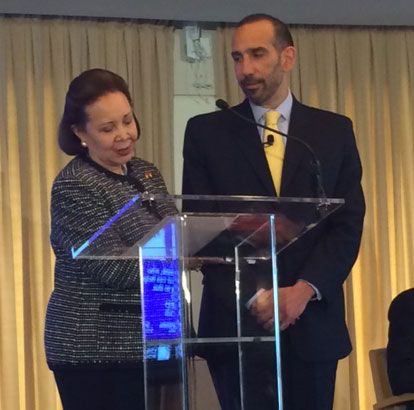 America's Promise Alliance Board Chair Alma J. Powell presented Communities In Schools President and CEO Dan Cardinali with a prestigious Promise of America Award  at a gathering of more than 100 leaders dedicated to improving the lives of children and youth.
The Promise of America Award has been given to individuals and organizations that have made an exceptional difference in the lives of young people – and through their work, have demonstrated the power of the Five Promises (caring adults, safe places, a healthy start, an effective education and opportunities to serve) to change odds, transform lives and build positive futures.
America's Promise will celebrate its 20th anniversary as an organization in 2017, and Cardinali is the first to be honored with a special 20th Anniversary Promise of America Award. The organization will give additional 20th Anniversary Awards over the course of the year and next April in New York City at the anniversary celebration.  Read more here.