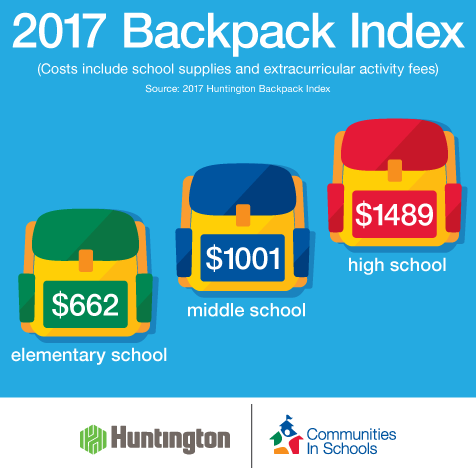 In cooperation with Communities In Schools, Huntington Bank's eleventh-annual 2017 Backpack Index charts the increase of school costs at elementary, middle school levels as high school costs stabilize. Although the cost for the sample list rose nominally at the elementary and middle school levels, high school costs – the highest impact on parents – decreased by a few dollars year over year.
According to the Backpack Index, for the 2017-2018 school year, parents can expect to pay per child:
$662 for elementary school children, a 1 percent increase compared to 2016.
$1,001 for middle school children, a 4.6 percent increase compared to 2016.
$1,489 for high school students, $9 less than 2016, a less than 1 percent decrease.
The Huntington Backpack Index has tracked classroom supply and school fee costs passed on to parents since 2007 to highlight the added burden of public school expenses beyond assessed taxes. The Index is limited to required supplies and common fees to bring attention to an often overlooked major annual expense. Other back-to-school surveys typically concentrate on clothing costs or what parents say they think they will spend.
To learn more about the 2017 Backpack Index, visit https://www.huntington.com/.