All In For Students Award Recipient 2015: The award is presented to site coordinators who demonstrate an unwavering commitment to students. With acts of love and transformation, these Heroes are the best at what they do.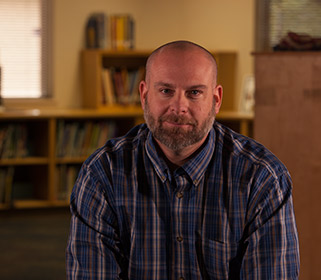 Every Tuesday after school, a group of students from Wilder Intermediate School eagerly heads to the art room for a weekly session of dueling knights, castles and rooks. The popular chess club they're taking part in at the New Braunfels, Texas, school has been around since 2008, organized by Kurt Haynes, a site coordinator at Communities In Schools of South Central Texas. 
Nearly 40 sixth-grade students sit on opposite sides of a chess board and plan their winning strategy. Newbies get paired with more experienced players, and some kids even get to face off with teachers who drop by occasionally to play. While Haynes supervises, he is also teaching and answering questions for those students who raise their hands. Everyone learns and everyone plays. 
"Chess stimulates the brain," said Haynes. "It teaches kids to solve problems. It teaches that you can get into difficulties and you can use your brain to think through situations. And the students learn good sportsmanship. With chess, they're learning things they can use for life."  
Quietly, attentively and passionately, Haynes does whatever it takes to give students an extra hand at being successful. For the sixth consecutive year, Haynes has arranged for Wilder to host Family Holiday Craft Night. It's part of his focus on bringing families into the school, letting them see that they are part of the community and that working together they can contribute to their child's education. One year nearly 600 people participated. An Eco Club that emphasizes environmental consciousness, and Wilder Cares, where backpacks filled with food are handed out over the weekend, are just a few of the other numerous programs Haynes has started or expanded to meet the needs of the students and the community. 
"Mr. Haynes may be quiet but his actions speak volumes," wrote Wilder Assistant Principal, Luis Chavez. "He treats all students with respect and he understands the importance of collaborating with the teachers to best help the students. He is always calm and never turns anyone away. There is no doubt that Mr. Haynes loves what he does." 
Thirty percent of the population at Wilder is considered economically disadvantaged. Haynes case manages a little more than 100 students and admits that the work can sometimes be challenging and even heartbreaking. But he continues, day in and day out, making a difference in each of his student's lives.  
"Once in a great while does one experience the privilege of watching a true leader touch the lives of students with such compassion and support while demonstrating impeccable character and leadership," said Donna Brant, a registered nurse at Wilder. "I see that daily in Kurt Haynes."