Once shy and timid, Gabriel is breaking down barriers through spoken word and looking forward to a bright future as she prepares for college.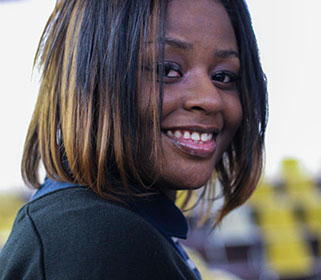 Gabriel Abron had never heard of Communities In Schools until the day she stumbled across the office at John Hope College Prep. She was a shy, high school freshman and struggled with depression and post-traumatic-stress-disorder brought on by an incident in her childhood. But something else guided her that day and Gabriel walked in, smiling, and introduced herself to site coordinator Carmen Holley.
"We clicked right away," said Gabriel.
Her introduction to CIS was easy, but reaching her academic goals was not.
"My grades were low D's, my attendance was bad and at that point I didn't even think I was going to graduate," said Gabriel. "By the end of the year I was trying and studying. My grades gradually started changing and improving. Working with CIS taught me that if I have a problem, not to be afraid and to ask for help right away."
In her junior year, Gabriel participated in the college experience, a program that introduces students to the application process and teaches them how to navigate the many steps that need to be taken toward college enrollment. Gabriel was also introduced to the AT&T Aspire Academy program through a partnership with CIS of Chicago. Several times during the school year students tour the corporate offices, participate in mock interviews and learn about professional job skills.
Gabriel continued to work with the CIS of Chicago site coordinator and eventually joined the Ladies Lounge, a girls discussion group led by Holley, where she found sharing her story connected her to an accepting, extended community.
"It felt like family," said the teen. "Being in the group I felt very comfortable. I thought I would be helping the other girls, but they ended up helping me."
With her confidence improving, Gabriel started to blossom. She now describes herself as outgoing and open. She took up journal writing, first as a form of therapy, and then found it was something she enjoyed and was good at it. Then she started drawing and participating in spoken word events.
"Gabriel's success is a great example of what happens when CIS works to support students," said Holley, who noted the graduating senior's work on building self-esteem and strengthening the relationship with her mother. "When she stumbled, we were still there. Over time the program has value. Especially the one-on-one relationship with a trusted adult. I know that when she graduates she'll be able to use what she learned."
With graduation quickly approaching, Gabriel can focus on the next phase of her life as a student at Rust College, a historically black liberal arts school in Holly Springs, Mississippi.  She wants to be the first in her family to graduate from college, and plans to become a pediatric nurse.
"I love kids, and I want to be the one to put a smile on their faces."
- June 2016