Learning how to creatively express herself has helped Ka'liyah make major strides to achieving academic excellence.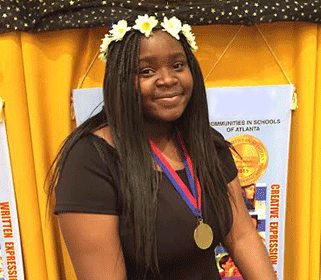 When the mask is lifted, there will be words that describe how I feel…
Ka'liyah like many pre-teen girls, is learning to balance family, school, peers and the uncertainties and pressures of life. 
Growing up in a single parent home with her two older brothers, Ka'liyah felt a lack of attention. The attention that was given to her special needs older brother coupled with the absence of her father in the home often made her angry and unable to control or express her emotions. She struggled with attendance, frequently missing days at school due to a reoccurring upper respiratory infection.
She needed an outlet, a place where she could be free to express her feelings in a productive way. So she picked up a pencil and began to write.
"In the past, I hid my emotions from others. CIS has helped me understand how to embrace these words, and turn them into something positive. It wouldn't be much to some people but it meant the world to me."
With help from Pamela Hurst, her site coordinator at McNair Middle School in Atlanta, GA, she has been learning and rising to her potential.
"Last year I only missed one day of school. I didn't get angry – and after a point I found there is no reason for me to be angry and get physical or loud with other people."
This year, Ka'liyah approaches the 8th grade with goals to deal with anger in a better way, focusing on her studies, and shedding the mask she used to hide behind. She is looking forward to excelling in her math and chemistry curriculum and one day becoming a successful young woman.