All In For Students Award Recipient 2015: The annual award is presented to the communities that are able to challenge students academically, knowing that students' non-academic needs are being met through organizations such as CIS.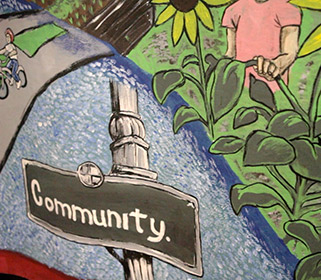 The East Los Angeles community of Boyle Heights is made up of more than 95,000 residents, many of whom struggle to overcome economic, cultural and educational barriers. But in Boyle Heights, Communities In Schools of Los Angeles finds itself working toward the same goals when it comes to education and grassroots support for uplifting a community.
At the two area schools, Hollebeck Middle School, where CIS of Los Angeles has had a presence since 2009, and Mendez High School, since 2010, site coordinators have worked alongside dozens of organizations that have the primary goals of bringing needed resources and services to students and families. The Promesa Boyle Heights initiative, which was considered for a Promise Neighborhood grant from the Department of Education in 2010, led to a more rigorous outline and plan that allowed CIS to become a lead partner and successfully respond to the community's most urgent needs — safety, education and economic development.
"In Boyle Heights, you have a community that is committed to making changes," said Deborah Marcus, executive director at Communities In Schools of Los Angeles. "Parents are engaged with students, the community is concerned about health and wellness and established agencies and organizations know how to partner. They all know we need coordinated layers of support. That's what's amazing about Boyle Heights."
With energies centered on this coordinated approach, services are better integrated and are likely to be more effective when it comes to meeting student needs. Since 2011, PBH has made consistent progress at both schools. At Hollenbeck, the Academic Performance Index (API) has increased by 38 points, and at Mendez, 76 points, the highest API gain among traditional high schools in all of California for the 2012-2013 school year. In addition, the graduation rate at Mendez rose from 47 percent in 2011-2012 to 63 percent in 2012-2013. CIS of Los Angeles is transforming the lives of nearly 2,000 students at both schools who are receiving targeted and sustained services.
Leadership extends beyond CIS, as executive director Marcus counts on full support from such organizations as the Los Angeles Unified School District, as well as the contributions of the CIS of Los Angeles board of directors. Programming includes college and career fairs, summer bridge classes that help students with math and English, as well as the wellness center at Mendez, where there is a focus on health and caring for the whole student. Everyone focuses on encouraging positive behavior, promoting a college and career culture and a healthy school environment.
"CIS exemplifies the spirit of doing for students," said Deycy Avitia who works as the director of Boyle Heights Promise Neighborhood Initiative at Proyecto Pastoral, one of many instrumental community partnerships. "They have constantly been a model to build on strength in our community." Avitia adds that from the teachers to students in the schools, "There is this energy and momentum to achieving something together."
The success directly reflects the collaborative efforts of many, and demonstrates how the Promesa Boyle Heights initiative is making an impact in supporting student success.