Javier had no plans for his future until his Communities In Schools Site Coordinator asked one simple question, "What do you want to be?"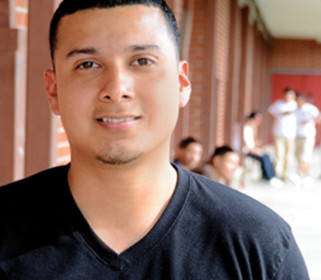 As a high school student at George I. Sanchez Charter School in Houston, Texas, Javier Alamirra could not have cared less about his future. He had already decided he didn't want to do anything or be anything and constantly skipped class because he didn't see the point in working toward a diploma that he had no plans to use.
"There was nothing I really cared about," said Alamirra. "The teacher told us that if you wanted to, you could go to college. But if you never knew anyone who actually went, then how could you possibly think you could do it?"
Now 23, Alamirra has a laundry list of things he cares about. He's a college senior at the University of Houston pursuing his bachelor's degree in civil engineering, an intern at a local engineering firm, vice president of his university's American Society of Civil Engineers chapter, a father to a five-year-old son and husband to his high school sweetheart.
Everything changed for Alamirra in 10th grade. Removed from his first high school for truancy, Alamirra continued to get in trouble after transferring to Sanchez. One day his friend was caught with drugs at school, and the incident concerned Alamirra's mother enough that she reached out to school administrators for help. Their answer was Communities In Schools.
Shubhra Endley, now a mental health specialist for Communities In Schools of Houston, was the site coordinator at Sanchez when she first met Alamirra. A licensed social worker, Endley pulled Alamirra out of class once a week to participate in Young Leaders, a male leadership program comprised of a small group of Alamirra's peers. While working on conflict resolution, nonviolent communication and social skills, Alamirra got his first taste of leadership development. In Endley, Alamirra found one of the first people who believed in him, and that confidence resonated with him.
"There was something about Ms. Shubhra. There was no judgment in her eyes. She accepted you for who you were," said Alamirra. "She boosted my self-esteem and made a lot of things seem possible. 'What do you want to be?' she would ask me. No one had ever asked me what I wanted to be."
The tools Alamirra acquired from Communities In Schools proved valuable in helping him build a resiliency to persevere in life.
"Javier saw an opportunity with Communities In Schools and took advantage of the program. He was invested in his own change from the beginning," said Endley.
With Endley's encouragement, Alamirra enrolled in an early college program, where he earned 17 college credits his senior year while working nearly full-time. When Alamirra's girlfriend became pregnant, he thought about giving up on college but instead focused on all of the people who were invested in his future.
In 2007, he applied for and received a scholarship to attend the University of Houston-Downtown. At the end of his first semester, on the day of his finals, his son was born. Alamirra had just turned 18 and again thought his only option was to drop out and get a job. "I had that feeling that I was going to be just like everyone else. I had barely started, and I didn't want to quit already."
But the scholarship program director refused to let Alamirra drop out and instead gave him a job on campus so he could continue earning his degree. With Endley's support, Alamirra scored his first internship with a local engineering firm, where they were so impressed with him that they decided to turn the one-time internship into a permanent company program.
In May, Alamirra will receive his bachelor's degree, becoming the first college graduate in his family. He hopes his experience will show family members that college is possible for them, too.
"A lot of people opened my eyes," said Alamirra. "And I just thank God they got through to me. I feel so lucky. I want to make them proud."