Adapting to the Chaos of Life
CIS of Mid-America at Kansas
Academic Assistance
In spite of her hectic schedule and challenging learning environment, Logen developed the discipline and stress management skills needed to succeed in a full and often chaotic life.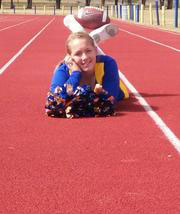 When Logen first got involved with Communities In Schools in the eighth grade, she was having a hard time expressing her frustrations and difficulties in the classroom.
"When my anger builds up, it's like fire and it just goes," says Logen, now a sophomore at Ashland Kansas Academic Center.
Her behavior was affecting her academics, so her school arranged for her to meet with CIS school coordinator Haley Walker. "She'd shut down whenever she'd get upset in class. If a test ticked her off, she'd just quit." Logen needed to talk about her issues with someone who got her and she was comfortable with Haley. "I felt confident talking to her because she's someone I can trust."
Once the two started meeting, they began to develop ways for Logen to cool herself down in stressful or infuriating scenarios. "Now I just take a break and walk away from it. I use that in real life in situations that I don't like, too."
Today, the pair are working together to deal with other issues like a hectic extracurricular schedule and a new challenging learning environment. This year, Logen began a distance-learning math class that she had difficulty adapting to. On top of that, she's on the cheerleading squad, participates in youth group and has tennis meets twice a week. Balancing all of this required a great deal of discipline from Logen, so she and Haley shifted things and placed their focus on that. According to Haley, their work has been paying off.  "She has done exceptionally well with adjusting to that and keeping her grades up."
So what's next for Logen? She's getting on the path to helping others with aspirations of attending college and becoming a pre-school teacher.
"Without CIS, I would never be as successful as I am now."
- November 2016
Click here if you'd like to donate to Communities In Schools to help students like Logen.
7

CIS organizations and licensees in the U.S.

34

schools served last year

27,764

students served last year
Are You #AllinforKids?

 
Join our community of changemakers and stay connected with us! 
Learn more about the work Communities In Schools is doing to empower and equip every student to take on and tear down the barriers that stand between them and an equitable path to education. 
↑

TO TOP