Determined to become successful both on the field and in the classroom, Brandon now embraces the support he receives from Communities In Schools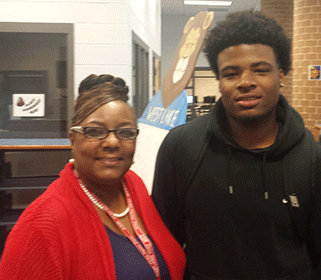 Since Brandon was a kid, he loved playing baseball.  For him, baseball, was (and still is) his life and his motivation and drive for staying in school. 
But as Brandon got older, he started making bad choices. He cut class, hung out with the wrong friends and got suspended - often. His grandmother took the family in and his mom worked 12-hour shifts at the car lot, doing everything she could to provide for the family.
Dr. Demona Warren, a Communities In Schools site coordinator, saw the signs but when she tried to help, Brandon wouldn't have it. "When I heard her call my name, I would literally run."
His GPA plunged to a 1.4 and Brandon was cut from the baseball team. He knew if he wanted to play baseball, he had to stop running. 
Determined to become successful both on the field and in the classroom, Brandon decided to embrace the support from Communities In Schools.
He turned to Dr. Warren, who welcomed him as a CIS student with open arms. From tutoring to counseling to parent-teacher conferences, he allowed Dr. Warren to become his "school mom," and slowly, things started to turn around. 
"CIS of Atlanta has made a humongous difference in my life. This program has taught me to think before I act and make better choices in choosing friends. Before CIS it seemed like every week I was either out of school or in school suspension. Once when I was an honor student in middle school, I found myself failing miserably in almost all of my classes as a freshman in high school. But with help from CIS I am now back on track, more focused and determined to do better in my academics and behavior."
He's back on the team now playing in the Catcher position, with a 2.8 GPA all because "Dr. Warren wouldn't give up on me."
He is already looking at colleges for baseball scholarships. His dream is to attend a D1 HBCU.
- September 2015
Click here if you'd like to donate to Communities In Schools to help students like Brandon.