All In For Students Award Recipient 2015: The annual award is presented to the schools that are able to challenge students academically, knowing that students' non-academic needs are being met through organizations such as CIS.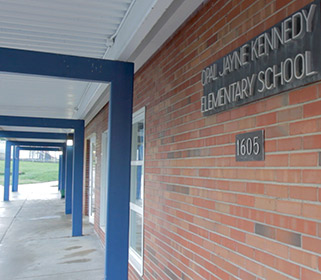 Attempting to improve the fifth-grade graduation rates across an entire county might seem like an ambitious goal to many, but it is the kind of audacity Communities In Schools of Mid-America at Northeast Kansas takes on regularly. At Kennedy Elementary School, in Lawrence, Kan., that means providing basic needs — food, clothing, school supplies and transportation — to the students and families who make up the economically disadvantaged community. It is by removing these barriers, which can lead to negative impacts on academics, attendance and behaviors, that CIS of Mid-America of Northeast Kansas has made significant progress toward reaching the school's education goals.
Only a few short years ago, Kennedy's future seemed less than bright. There were more than 1,000 behavioral referrals and according to the Kansas Department of Education, almost one-third of the students were not proficient in reading and math. But the combined efforts of CIS of Mid-America of Northeast Kansas, strong partnerships and local organizations working together to address the social and academic needs of the students and families in the community has resulted in successfully turning things around. Since the involvement of CIS and the partnership with the United Way Education Coalition, there has been an 80 percent decrease in office referrals, a nearly 40 percent gain in math test scores and an almost 10 percent bump in reading proficiency.
"It is a collaborative effort focused on not just changing the lives of these children today, but changing their futures as well," said Brandy Tofel, executive director, CIS of Mid-America of Northeast Kansas, of the work that's being done at Kennedy. "The people involved in these partnerships are truly invested in the lives of these children and families at Kennedy Elementary."
At Kennedy, funding for the CIS site coordinator comes from the local United Way chapter, which was focused on structuring an initiative that would provide financial and volunteer resources to the community to address the academic challenges that poverty brings.
"While programs already existed, what we found lacking was a connection to resources. And CIS said, that's what we do," said Erika Dvorske, president and CEO, United Way of Douglas County. "Having the site coordinator is critical in achieving our goals. We've continued pouring more human resources into the programs because we see the progress."
Programs such as the basic needs closet, truancy intervention services, the summer "backsnack" program and managed parent outreach are indicators of the site coordinator commitment to the students and the Kennedy community. In addition, the principal at Kennedy, Cris Anderson, believes in the benefits of the CIS model, and has consistently been receptive as well as proactive in doing whatever it takes to bring in resources to support the students.
Said Anderson, "When we all work together, we have greater power to impact student success. It's a community effort, and the gains will pay off to us in our community."