Choosing A Different Path
Communities In Schools of Nevada
Behavioral Interventions
After graduating from high school, I attended the University of Nevada, Las Vegas where I earned a bachelor's degree in communication studies.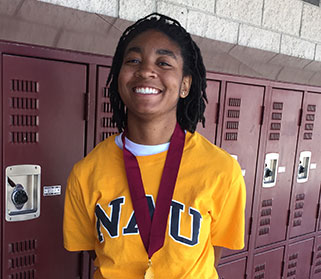 Many who remember the beginning of my days with Communities In Schools would say that I came in without a smile. I had just turned 16 years old, and I had been told by several teachers and administrative personnel that I would never see the graduation stage. I entered the program fortunate to have a CIS site coordinator who rooted for me before we even met. I was given a chance to start again with CIS because they believed in me that much. Initially I had about six credits as a junior in high school. The previous year I had 66 absences, and my GPA was in the low range of a C- average.
That first year of being in CIS I was introduced to many opportunities, one being the ability to have access to technology after school. With the help of my mentors and site coordinator, I was enrolled in additional classes. This would later help me increase my credits. After my first year, I earned 16 credits overall, and was nominated and selected to be "CIS' Student of the Year." Because of CIS I was selected for a Law & Trial Conference at Stanford University and afforded the opportunity to travel to California and participate with students who came from all over the world.
Coming back to school the next year I was a senior who was on track to graduate. I calculated the number of credits I would need for an Honors Diploma and talked to my case manager about how to make this accomplishment possible. We were both excited, but there were people who did not believe this would be possible. I spent most of my time that year working harder than ever by taking additional courses as well as taking courses that I had previously failed to improve my GPA. By the end of my senior year I was able to achieve the distinguished honor of getting an Advanced Diploma and an overall GPA of 3.29.
After graduating from high school, I attended the University of Nevada, Las Vegas where I earned a bachelor's degree in communication studies. I am now finishing my capstone project and will be conferring my master's degree in strategic communication in September 2019.
Many people would say that my accomplishments are great, and I find myself telling my story of how I've overcome so much to others. I would not be the person I am today without the assistance of those who truly believed in me, and it all starts with just one person willing to make a difference. I am grateful for having my mentors, case manager, and CIS – all who have had a hand in my success.
3

CIS organizations and licensees in the U.S.

70

schools served last year

60,903

students served last year
Are You #AllinforKids?

 
Join our community of changemakers and stay connected with us! 
Learn more about the work Communities In Schools is doing to empower and equip every student to take on and tear down the barriers that stand between them and an equitable path to education. 
↑

TO TOP