All In For Students Award Recipient 2015: The annual award is presented to the schools that are able to challenge students academically, knowing that students' non-academic needs are being met through organizations such as CIS.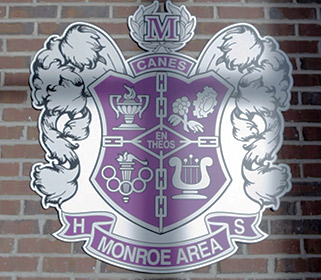 When Angela Yarman describes the work that's being done at Monroe Area High School to build relationships and connect students to needed resources, she uses the word "synergy." It perfectly captures the Communities In Schools' model of integrated student supports, aligning services that will help to change the picture of the lives of the school's most at-risk students.
"Monroe Area is fortunate to have several important grant programs that come together with our case management to make a powerful impact on students," said Yarman, executive director of Communities In Schools of Walton County, Ga. "The principal paves the pathway for CIS to implement the model. We provide whole-school programming for the 1,200 students at MAHS, focusing attention on the 60 plus who receive Level Two services. Then we have the site coordinator, who doesn't just start programs, but makes sure the students are using the services and is the one to say, 'I'm here for you, I care,' and give them the adult support that many of them really need."
CIS of Walton County has focused on helping the most economically challenged students see a different future for themselves by providing a framework for them to acquire the skills needed to reach their career and life goals.
Site coordinator Ivy Corder developed "Prepared, Polished and Professional," to help students acquire employability skills. They attend the 21st Century Community Learning Center after-school program where they can also get tutoring and recover credits. Topics range from writing a resume to career exploration to acquiring leadership skills. Partnering with the community, business leaders conduct seminars and even donate work-appropriate clothing.
"I think we take it for granted, but some of our kids don't see this every day, or at all," said Corder, of the enrichment skills being taught. "Having the program is huge because it gives them a new level of confidence. They have a new understanding of how they can be contributing members of the community."
For the 2012-2013 school year, Monroe exceeded the state graduation rate, increasing to 74.2 percent, a hopeful indication since the school was once considered a dropout factory.
Senquaesha Parks graduated from Monroe and credits CIS of Walton County for her success.
"My previous employer was hiring one person from the employability program and they wanted me back because of my character and work ethic," said Parks. "Without CIS I don't know where I would be. I learned so many valuable and essential skills that will follow me throughout my lifetime. Because I got my job for another year, I just proudly paid off my room and board and for my first college year."
Yarman is pleased to know that synergy and CIS interventions are making a difference.
"Students come to us thinking that their problems are insurmountable, that their situation is hopeless because they have no access to resources. But now they know there is a whole network of people in their school, in our organization and out in the community, who are in their corner and who want to see them succeed. Now they can feel hopeful."