Despite the personal challenges she has worked to overcome, Kelsy is now wearing her crown of achievement to inspire and motivate others.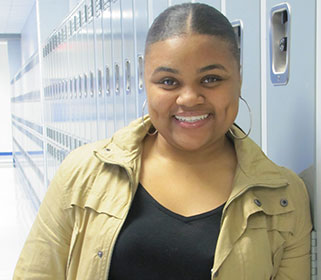 It was a dream come true for Kelsy Brown — to be crowned Miss Westlake. But winning the title was only one of the ambitious teen's many personal goals. All A's and B's in high school, a high GPA and getting accepted at Albany State University, her favorite historically black college, were also on her wish list. The only obstacle threatening Kelsy's success it turns out would be herself.
Kelsy's transition from middle school student to Westlake High School was difficult, as she struggled with handling her course load, studying and choosing the right friends. With a low GPA at the end of the first semester in her freshman year, Kelsy was selected to participate in the Communities In Schools of Atlanta program to find support.
"I spent too much time hanging out with my friends and on extracurricular activities instead of my studies. I needed structure and to learn how to balance everything." What followed was a 15-minute conversation that Kelsy says changed her life forever. "CIS made sure I stayed on track. They were always there for me."
Weekly sessions and check-ins with Dr. Demona Warren, a site coordinator with CIS of Atlanta, helped Kelsy learn to manage her time and chart a course for success. Kelsy failed geometry in her sophomore year and it bought her GPA down again. In her junior year she was not happy with her SAT score; in senior year it was the same with her ACT score. She elected to retake the exams to score higher.
With each minor setback, Kelsy recommitted herself to her studies, worked hard and reminded herself that she could do whatever she put her mind to. She even found time to fulfill another of her passions — managing the school's varsity basketball and football teams. Now the senior has a 3.3 GPA. And the reigning Miss Westlake will be a guest speaker at the school's Senior Baccalaureate Service.
"I've overcome a lot," says the 18 year old, who wants to become an elementary school teacher before opening her own day care facility. "I'm really proud of myself for what I've achieved."
For the talent portion of the school Miss Westlake pageant, Kelsy performed 'I Can't Breathe,' a spoken word that she co-wrote with her aunt. Her inspiration came from personal experience and witnessing the struggles that so many high school students face.
"There were times when I felt I couldn't breathe and I felt overwhelmed," she said. "I wanted to speak to all students, to let them know that you just have to be strong and you can get through it."
Dr. Warren said, "She's not the same shy, soft spoken Kelsy that I first met. The confidence she exudes now is wonderful. I am super proud of her and what she has accomplished."
- May 2016