When Fatoumata began the 6th grade, she was bullied by a group of older girls at school. Pamela Hurst, a CIS site coordinator, stepped forward to help after seeing how the harassment affected Fatoumata's grades and self-esteem.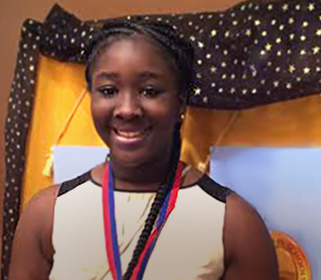 Pamela Hurst sat in her Communities In Schools office looking at the whiteboard of student names on her caseload. The needs of the 80 middle schoolers ranged dramatically. Some were getting over the loss of a loved one, others had little supervision at home. Many came from poor families who were struggling to provide for their kids and they leaned on Pam for support.
Suddenly, Fatoumata, one of Pam's newest students, burst through the door, tears streaming down her face.
"Miss Hurst…they… did… it… AGAIN… and… I'm… I'm… they… they're just so MEAN!" The words poured out of the young girl between sobs. She covered her face with her hands. With the emphasis on the last word, Pam had a pretty good idea what happened.
A group of older girls at the school bullied Fatoumata every week. They singled her out for being "different" – her family was from Mali and their traditions were unlike those of the other kids. She was shy and lacked the self-confidence to stick up for herself. The bullies teased her about how she looked, her family was and the way she acted. They were relentless.
Pam made a mental note to speak with the principal, and put her arms around the young girl to comfort her. Looking at Fatoumata she said, "My dear, you are a smart, wonderful young lady and you need to start believing that." Fatoumata looked at her shoes. "You're also going to need to tell those girls to leave you be. It's hard, I know, but we'll figure it out." Fatoumata nodded.
That afternoon, Pam enrolled Fatoumata in the Communities In Schools creative writing program. Each week, a group of CIS students journaled about tough situations at home and at school, and used creative writing and group discussions to develop and hone coping skills.
Fatoumata was shy at first. She only had one close friend at school and it was overwhelming to meet so many kids all at once. With Pam's support, however, Fatoumata learned to articulate her feelings and make new friends. It was hard to talk about being bullied, but when she found the courage to do so, the cruel words sounded less scary and less true. Pam coached her how to "keep her cool" when she encountered bullies and helped Fatoumata journal her accomplishments. She wrote about learning to play the clarinet, making new friends through CIS, her family's culture, and set goals for the future. Buffered by a new support system, Fatoumata began to find her voice.
Pam also helped coordinate a school-wide anti-bullying campaign in October called, "Don't be a Monster." The campaign, themed for Halloween, taught students at the school about the damaging effects of bullying and how to be a conscientious student and friend. She worked alongside the principal and teachers to help change the culture at the school, create opportunities for students of different cliques to interact with one another, and intervened when needed on campus when bullying still occurred.
One day that spring, Pam was leaving the cafeteria when she spotted a group of 8th grade girls taunting two sixth graders. Pam moved to intervene when she heard a familiar voice over the fray.
"Stop! Just stop it. Don't talk to her like that. She didn't do anything to you." Fatoumata's voice, confident and steady, matched her demeanor. The 8th grade girls were startled. Fatoumata had never spoken to them like that. For the first time, she stood her ground by defending one of her new friends. Pam felt a swell of pride. It marked a turning point for Fatoumata who embraced her own unique qualities as a source of strength and found the courage to speak up for herself. Armed with better coping skills, a renewed self-confidence, and a close-knit group of peers, Fatoumata sought out her own bullies. While they had been callous and cruel, Fatoumata was magnanimous and kind. She extend an olive branch of friendship.
It was a surprise for the older girls. Fatoumata, once shy and self-conscious, now commanded respect. Friendships formed across the former divide and Fatoumata worked to create a culture of acceptance and kindness throughout the school. Once a wallflower at-risk of falling through the cracks, Fatoumata blossomed, and continues to thrive.
Thanks to the support of Pam and the generosity of people like you, Fatoumata is excelling as a young leader this year.
You can help create more leaders like Fatoumata by donating, advocating or volunteering today.