Finding the Perfect Fit
CIS of Charlotte/Mecklenburg
College and Career Preparation
With the support of CIS, our students stay in school, graduate and go on to bright futures. They all have a story about their journey to who they are today. Alumnus, Ryan, shares his.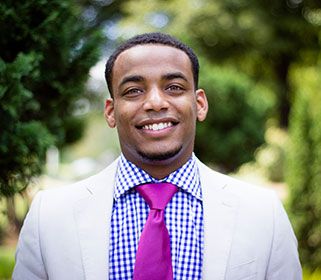 I am a 2011 CIS of Charlotte/Mecklenburg graduate from E. E. Waddell High School. In May 2015, I graduated from Tuskegee University in Alabama with a Bachelor of Science degree in mechanical engineering. Since graduation I have made the decision to leave the engineering field and venture into the world of personal finance. Through my internship experiences while in college, I found that engineering did not allow me to help people in the way that I wanted to. I also discovered my passion for making an economic difference in my community. After passing the necessary exams to enter the field, I was hired by Edward Jones in St. Louis, which is where I am currently training to be a financial advisor. Upon completion of my training in July, I will return to Charlotte where I will begin to build my book of business and begin to help people achieve their life goals, such as sending their kids off to college and preparing for retirement.
My connection to Communities In Schools began sometime in my junior year at Waddell. My initial attraction was the ability to attend fieldtrips outside of the classroom. The CIS site coordinators helped me when I was not sure where I would attend college or what I was going to pursue. They also encouraged me to seek outside scholarships and to thoroughly research universities for the "perfect fit." They made sure I took my SAT and ACT, as well as made sure I didn't settle for mediocre scores, which made it that much easier for scholarship eligibility. My siblings and I are all first generation college graduates. As the youngest, there was still a lot that I needed to understand about the post-secondary process.
As I reflect back, I realize if it were not for Communities In Schools, I probably would not have attended Tuskegee University, which was one of the best decisions of my life. The first college fair I attended was a CIS-sponsored trip, and that is where I was first introduced to Tuskegee University. The admissions representative caught my attention; he talked about their football history, which I was most interested in at the time, and the scholarships the university offered. At the time, I never thought I would actually end up at Tuskegee University, however, a seed was planted that day and six years later, I found myself walking across the stage of a prestigious and historic black university with First Lady Michelle Obama as my commencement speaker.
- May 2016
25

CIS organizations and licensees in the U.S.

308

schools served last year

163,682

students served last year
Are You #AllinforKids?

 
Join our community of changemakers and stay connected with us! 
Learn more about the work Communities In Schools is doing to empower and equip every student to take on and tear down the barriers that stand between them and an equitable path to education. 
↑

TO TOP