Moises says he would be dead or in prison if he hadn't received the support of CIS and Diplomas Now. Today he's a standout student headed for college.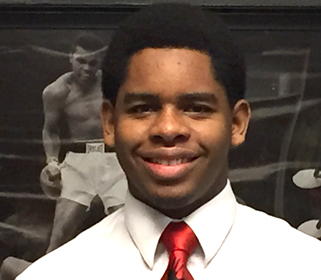 When Moises was a high school freshman, he got into a fight with his basketball coach and stormed off the court—in the middle of a game. This year, instead of walking off the court, Moises plans to stride purposefully across the stage at Booker T. Washington High School's graduation ceremony in Miami. The former regular at after-school detention today is the proud recipient of a Florida Bright Futures college scholarship worth $100,000, awarded for outstanding academic performance.
Moises paints a grim picture of what his life could have been like without the support of Diplomas Now, a partnership of Communities In Schools, Talent Development Secondary at Johns Hopkins and City Year.
"I would be locked up. I would be in prison or dead right now," said Moises, whose friend from middle school was shot and killed recently. "It made me contemplate, that could have been me. That's where I would've been if it wasn't for people like Mr. Moore in my life."
As a freshman, Moises missed a lot of school and fought a lot. He hung out with the wrong crowd. He talked back to teachers, had several suspensions and often wound up at Saturday school.
Some of the problems stemmed from a turbulent home life. Working as an able-bodied seaman, Moises's father was away from home eight months of the year.
"Not seeing my father often put me in a position where I didn't have anyone to speak to and confide in, and it made me act out," Moises said.
"He's become such a positive role model in the school community," said CIS of Miami Site Coordinator Kaveecia Moore.
For someone who never thought he would finish high school, Moises today is an articulate, wise, determined and focused student with big goals—attending the U.S. Merchant Marine Academy and also becoming an engineer and a lawyer.
"I don't forget I have people watching me and expecting me to do things," Moises says. "My little cousin and my friends' younger brothers definitely look up to me, and I very much feel like I'm a role model influencing other kids and letting them know I was in that position before."
- May 2015