With the support of CIS, our students stay in school, graduate and go on to bright futures. They all have a story about their journey to who they are today. Alumna Veronica shares hers.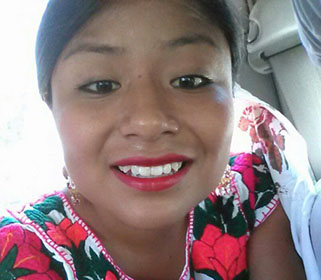 I am an indigenous Zapotec woman, and I was born in Oaxaca, Mexico, and raised in a small village named San Bartolome Quialana. When I was a toddler, my father made the difficult decision to immigrate to the United States due to the poverty in Oaxaca. Unfortunately, my father missed important parts of our lives, but when I was eight years old he made the decision to bring us to the United States. Since living here, I have gone through hardships as well as amazing experiences that have made me a stronger woman.
Throughout high school, I made sure to obtain good grades. However, during senior year I did not have a lot of resources at my disposal because I was an undocumented student. I did not know where to go to get help with the SAT or how to apply to college.
My dad was deported at that time, and we lost our home. Due to these circumstances, I was looking for a job, and we had nowhere to live. Fortunately, I met Karina, one of the site coordinators at Communities In Schools of Los Angeles. She helped me apply for college, write my personal statement and apply for scholarships. Most importantly, she encouraged me to never give up on my dream of going to college. I got accepted to many institutions, but I could not afford to pay for tuition. Thanks to a fundraiser that CIS of Los Angeles organized, I was able to pay for the first installment of tuition and attend the University of California, Riverside, in the fall of 2012.
Currently, I am a fourth year student pursuing a bachelor of arts in sociology and anthropology. Throughout college, I have been part of Providing Opportunities, Dreams and Education in Riverside (PODER), an organization that provides resources for undocumented students. During my second year, I was part of outreach and the secretary of PODER my third year. During the fall of 2015, I participated in a study abroad program in Oaxaca where I conducted field research on how Oaxacan folklore art production is linked to tourism, commercialization and the recovery of cultural clothing. In the process of guiding undocumented students and conducting research, I found my passion of serving my community through mentorship and research.
 After I graduate, I will take a year off to prepare myself for graduate school, and a colleague and I will form an indigenous Latino organization to provide resources for the underrepresented indigenous people in Los Angeles. CIS has definitely played a huge role in my accomplishments, and it has inspired me to start my own organization to help other students, just like CIS helped me. 
-May 2016