Steffan is a first-generation student born to immigrant parents. Steffan's site coordinator helped him navigate college admissions through his last year of high school in preparation for college.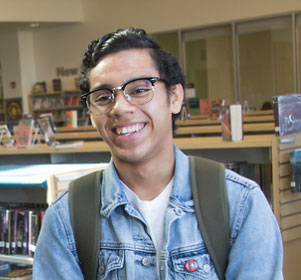 Like many graduating seniors, getting ready for life after high school can be a bit intimidating trying to decide what happens next. For 17-year old Steffan, there were many opportunities available to him that he was unaware of.  Being a 1st generation college student, Steffan needed an adult to help him navigate the college and career prep process. This is where CIS site coordinator, Amanda Gallardo, stepped in to help. 
Steffan has been with CIS of NOVA for two years and has been working with Ms. Gallardo since August 2016 at Wakefield High School. During that time, Ms. Gallardo has helped alleviate Steffan's anxiety about post-graduation, getting him focused on school, staying on track with his grades and helping him complete financial aid packages as well as college applications. As a result, Steffan has been accepted by five universities: Old Dominion University, University of Mary Washington, Hampton University, Washington College, and Redford University, each offering substantial financial aid packages. Steffan has decided to attend Washington College with a full ride scholarship in the fall. Steffan attributes his success to working with Ms. Gallardo: "I can definitely see my growth from August to right now; I've definitely succeeded more than I thought I would".
Steffan continues to play an active role in high school activities, as the captain of his school's lacrosse team and interest in theater. The support of Ms. Gallardo has helped Steffan open up about the changes happening in his life. Ms. Gallardo remains invested in Steffan's success and shared that now Steffan "is seeing that he can do it and that it's possible". This connection has influenced Steffan's growth as a prospective college student and most of all, as a young man.
-May 2017