A New Focus Kept Tres'Rionna In School
Kansas
Physical Health
When vision issues distract kids, CIS helps bring their attention back to learning.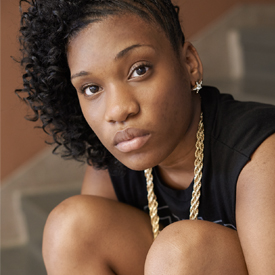 Battling a genetic eye disease that had gone undetected by school officials until CIS intervened, Tres'Rionna struggled with schoolwork because of headaches and an inability to see her assignments.
CIS Site Coordinator Shanna created a plan with each of Tres'Rionna's teachers to accommodate her by enlarging print on homework and extending test times. Currently, she is helping Tres'Rionna's family navigate the healthcare system to raise funds for a corneal transplant.
At 16, Tres'Rionna is a high school senior looking forward to a life-changing surgery that will drastically improve her sight – and her future opportunities.
UPDATE 2015: Tres'Rionna is doing great - learn more about where she is now on our blog.
7

CIS organizations and licensees in the U.S.

34

schools served last year

27,764

students served last year
Are You #AllinforKids?

 
Join our community of changemakers and stay connected with us! 
Learn more about the work Communities In Schools is doing to empower and equip every student to take on and tear down the barriers that stand between them and an equitable path to education. 
↑

TO TOP