Overcoming Cultural and Language Barriers
CIS of Kalamazoo
Academic Assistance
All In For Students Award Recipient 2015: The annual award is presented to the schools that are able to challenge students academically, knowing that students' non-academic needs are being met through organizations such as CIS.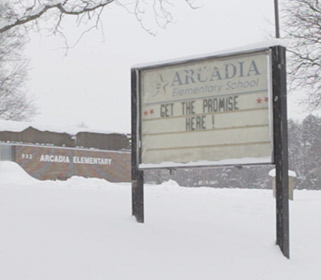 Communities In Schools of Kalamazoo, Mich., is successfully meeting the needs of the students at Arcadia Elementary School despite the challenge of working in an environment that is ethnically and culturally diverse — the student population comes from nearly 10 countries and about eight languages are spoken. The CIS team, extensively embedded in the school, works in collaboration with the principal, teachers, office staff, food-service staff and the Parent-Teacher Organization, and is succeeding in breaking down cultural and language barriers so that they don't prevent students from being connected to needed resources.
Site Coordinator Gulnar Husain, who has been at Arcadia since 2002, and a member of the Kalamazoo community for more than 30 years, says bringing a cultural sensitivity to her work has helped her build relationships with parents. When parents have questions, they feel they have a liaison in Husain, who enjoys her role of providing for student's needs so that each can do better academically.
"CIS has paid close attention to the unique needs of the student population and the significant number of students from the Middle East with Arabic language backgrounds," said Michael F. Rice, Ph.D., superintendent, Kalamazoo Public Schools. "Gulnar is an integral part of the school community and serves as a bridge to connect caring school staff, students, parents and community resources."
Arcadia has been committed to the CIS model for more than 13 years. It starts with the basic necessities, like coats and boots in the winter, shoes that fit, backpacks and school supplies, and weekend food packs. They also provide vision exams and a visiting mobile dental van to take care of health-related needs.  All of this addresses learning readiness, so that students can be more engaged and focus on schoolwork.
To address learning support, Arcadia partners with Western Michigan University. With the America Reads and America Counts programs, college students are fulfilling their work study by tutoring students identified by CIS in both math and reading. Tutoring takes place all day, every day, working around student schedules so as not to interfere with their core courses. The consistency of the program and the number of volunteers has made a tremendous difference. The percentage of students proficient in math and reading increased seven percent from 2012-13 to 2013-14. Scores on the state writing test improved by 17 percentage points.
The degree of collaboration between CIS, Arcadia, parents and partners demonstrates how they've come together as a community to help students reach their potential.
"When you step inside Arcadia, there is a buzz," said Pam Kingery, executive director, CIS of Kalamazoo. "And part of that buzz is that the community is there. It's kind of hokey to say it takes a village, but you can see strong evidence of just that—all day there. The community has truly put its arms around this school."
4

CIS organizations and licensees in the U.S.

55

schools served last year

17,341

students served last year
Are You #AllinforKids?

 
Join our community of changemakers and stay connected with us! 
Learn more about the work Communities In Schools is doing to empower and equip every student to take on and tear down the barriers that stand between them and an equitable path to education. 
↑

TO TOP