With the support of CIS, our students stay in school, graduate and go on to bright futures. They all have a story about their journey to who they are today. Alumnus Cory shares his.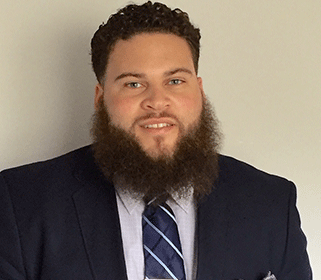 Call it coming full circle or passing off a baton. Either is fitting for the route Cory Bennett took to go from Communities In Schools "student" to Communities In Schools site coordinator. As a sophomore at Garinger High School in Charlotte, N.C., Bennett got good grades but struggled with guidance and direction. That was until he connected with Keith Cartwright, a Communities In Schools of Charlotte-Mecklenburg site coordinator.

Observing and listening so he could be a resource to those students who needed support to be successful in school, Cartwright was aware of Bennett from his behavior and found a way to reach out to him. Cartwright provided tutoring and mentoring help for Bennett, and soon found a different student emerge. It was this one-on-one relationship with a caring adult, one of the Communities In Schools Five Basics, that made the difference in Bennett's life.

"I saw a young man who was eager and determined, and wanted to be a leader but didn't know how," said Cartwright. "I saw a little of myself in him, back when I was in high school. I know if it hadn't been for guidance in my life, things could have gone differently. And I've always wanted to provide the same for others."

By the 12th grade, Bennett was taking the lead with Senior Buddies, a program that involved partnering seniors with freshmen to help the younger students get oriented to their new school, and was instrumental in helping college-bound seniors stay on track with all of the deadlines required for admissions. Bennett won the Communities In Schools of North Carolina Student of the Year award in 2007 for his outstanding leadership.

He completed his undergraduate studies at UNC Greensboro this past May with a degree in public health education. It was while job searching that he happened to visit the Communities In Schools of Charlotte-Mecklenburg office in Charlotte. Someone asked him if he had a copy of his resume – fortunately he did – and two weeks later, he received a call that would begin the process that eventually landed him a job as site coordinator at Thomasboro Academy in Charlotte.

The students at Thomasboro can count on Bennett just as he came to count on Cartwright. He has made it his mission to listen and observe, so that he, too, can be there as a resource for students. In a few short months, Bennett has already started a Lunch with Lawyers career mentoring program for the seventh graders, a series of "Mirror Talk Seminars" that focus on self actualization and confidence, a leadership team and scholarly essay competitions. Bennett is certain it's Cartwright's mentorship that has helped him in life and helps him today understand his role as a site coordinator.

"He told me he saw a lot of potential in me. He put me in leadership roles and had me speaking in front of people. He took me under his wing and gave me a sense of confidence I had never had before," said Bennett. "If it had not been for Communities In Schools, I would not have a college degree, I would not have found out anything about scholarships and financial aid. And I wouldn't be doing what I do now."

The student who was led has now become the leader. Bennett knows how important it is to open kids' minds. "My site coordinator opened doors for me, and I will be proud to provide that experience for my students."

Said Cartwright, "I think Cory is an excellent role model. He can really relate to the students and he knows the area because that's where he grew up. I can't think of a better person to be a site coordinator."

And in surrounding students with resources so that they can be successful in school and in life, Bennett is on a path to give back and inspire another generation of students to achieve their full potential.