With the support of CIS, our students stay in school, graduate and go on to bright futures. They all have a story about their journey to who they are today. Alumna Precious shares hers.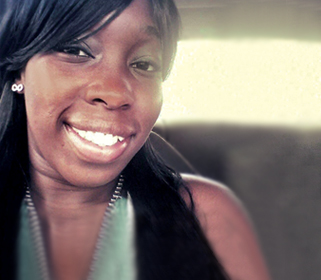 All In For Students Award Recipient 2016: The All In for Students Awards honors the exemplary dedication of CIS staff, educators, community partners and our alumni, who go all in for students, empowering them to stay in school, graduate and go on to brighter futures.
Precious Oliver spent her childhood feeling lost. Her mother was murdered when Precious was just a baby, and her beloved grandfather died when she was eight. Left with a step-grandmother who was distant and verbally abusive, Precious missed having a mother figure in her life.
"It was weird," she says. "I knew something was wrong. I knew my family wasn't normal, and I didn't know how to feel about that. I was just lost."
When she was in middle school, Precious met Aimee Lassor, a Communities In Schools of the Charleston Area site coordinator, and suddenly she found the mother figure she had been missing.
"She was like a mom and a drill sergeant," Precious recalls. "It was exactly what I'd been missing. When she was hard on me, I knew I needed it." Aimee wouldn't stand for low grades or behavioral problems. She connected Precious to tutoring programs and counselors who could help her work through the feelings of grief and anger. As she moved into high school, Precious spent many hours in a CIS after-school program, and Aimee helped her make sense of the bewildering college admissions process.
After seven years with Aimee and CIS, Precious graduated from high school and went on to study business administration at Greenville Technical College in South Carolina. She had escaped her past, and the future looked bright.
And then everything changed yet again, when Precious got word that her grandmother had fallen into a diabetic coma. Precious dropped out of college to care for the woman "who had never really cared for me that much."
When friends asked why she would endanger her future for the sake of someone who tormented her past, Precious found it hard to explain. "She wasn't the best grandmother, but she was all I had. Regardless of anything that happened before, I had to do what I could, even though it was hard."
Through it all, Precious kept in touch with Aimee, who helped her stay positive and focused. "CIS taught me to never give up," Precious says. "If I got knocked down, I knew I had to get up and fight. I knew there had to be something better for me. That's what kept me going."
With her college dreams deferred, Precious eventually enlisted in the Army and served two tours of duty in Afghanistan. It was there that she met her husband, Courtney, and in September 2015, the couple welcomed a daughter, Alia Vera. Precious is back in school now, pursuing a degree in cyber security, but she realizes that all the twists and turns in life made her the person that she is today.
That's the central lesson that Precious hopes to pass on to her daughter, something that Aimee helped her understand: "You have to have patience in life. You see a lot of things happening around you and you're like, 'When will it be my turn?' You have to believe that there's something out there for everyone. You just do what you can do—do the best you can do—and then have patience."
- January 2016