All In For Students Award Recipient 2015: The award is presented to site coordinators who demonstrate an unwavering commitment to students. With acts of love and transformation, these Heroes are the best at what they do.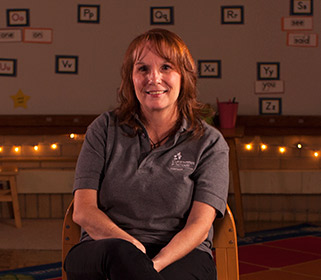 The College Club at the Spring Valley Center for Exploration meets once a week during recess in the school library. The students are finding out all about college life, researching those they might like to attend and learning to navigate the application process. Then at the end of their school year, the group of excited fifth graders writes letters and mails them off to college admissions offices as if they were prospective students.
"We want the kids to understand the process of going to college and to grasp what role they play in that. They don't always think about it at a young age. And the earlier we start, the more success we will have," said Martha Serio, a site coordinator for Communities In Schools of Kalamazoo, Mich., who started the club with an eye toward the students' futures. "And I don't even have to recruit these kids, they come and ask me, 'Can I please be in College Club?'"
The inspiration behind the College Club is the Kalamazoo Promise, an initiative created to provide students who attend Kalamazoo public schools with free tuition if they enroll in state universities in Michigan. But preparing her elementary school students for college barely scratches the surface regarding the commitment Serio has to the community at Spring Valley.
Since working at CIS of Kalamazoo for the past 10 years, Serio has brokered an extensive number of services for the students she supports. Basic needs are provided for with foodpacks, the CIS Kids' Closet — distributing clothing and hygiene items — the First Day Shoe Fund, Warm Kids-Winter Gear, a dental clinic and vision assistance. Other programs, like Girls on the Run, Literacy Buddies — funded through State Farm — the School Carnival, drama club and the Writer's Workshop are all centered on meeting academic needs and the needs of the whole child.
"Her dedication to the school and our families, her hard work ethic and her resourcefulness make her an invaluable asset to our school," said Spring Valley Principal, William Hawkins.
Deeply committed to equality and leveling the playing field for all students regardless of race, culture or socioeconomic status, Serio manages a caseload in which 88 percent of her children are economically disadvantaged.
Receiving good news about a third-grade student she had been working with shines a light on the depth that Serio goes to when it comes to serving students.The young girl had an unstable home life and had been living with her grandmother. Serio monitored her emotional wellbeing and her academics, scheduled one-on-one counseling and connected the student with a tutor, doing whatever it takes to help her succeed. Serio also enrolled her into a new Writer's Workshop program. It was the perfect fit.
"I found out she was taking her notebook home from the Writer's Workshop so she could keep writing," said a proud Serio. "I was so happy to hear we found her something she loves and is giving 150 percent. We worked with her and finally found something that is keeping her focused on her academics. We reached her."
By keeping her on eye on her their futures' and supporting their day-to-day basic needs, Serio is truly meeting the needs of the students at Spring Valley.