Aspiring athlete Raven hit a wall at 15. Overwhelmed with school, sports and issues at home, she began to lose focus in all areas of her life. But with support from CIS, Raven got back on track, both in class and on the field.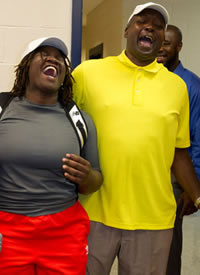 At 15, Raven was overwhelmed by school, issues at home, and athletics. She was in a slump, simply going through the motions, and had trouble staying focused. After some tough talks with her track and field coach, Raven found herself sitting in front of Communities In Schools site coordinators Katrina Bell and Robert Ellington.
Katrina and Robert helped Raven not only with home issues, but they also provided a safe place where she could just be herself. They also acted as guidance counselors, offering her some much needed assistance while giving her the time and space to make her own decisions about her future college and sports plans. By the time Raven entered her senior year of high school, she had turned her academic career around, and raised her GPA from a 2.1 to a 3.0. She was no longer just going through the motions.
With the help of coaches, teachers, CIS staff, friends, and family, Raven has not only made improvements in school, but huge leaps in track and field. In April 2014, she set a national prep record at the Taco Bell Classic, launching the shot put 56 feet, 8.25 inches to break a mark set in 2003. She almost repeated the effort at the New Balance Nationals Outdoor, where she earned a national title with a throw of 56 feet, 7.5 inches. As of July 2014, Raven holds the top four throws in prep history and has six throws in the top twenty.
As a result of her success on the field, Raven was named Gatorade's Female Track & Field Athlete of the Year. She celebrated this prestigious award with Gatorade's eleven other 2013-2014 national winners as part of the ESPY Awards in Los Angeles. She then went on to continue her academic and track and field success at Southern Illinois University.
Not content to rest on those laurels, Raven set her sights on competing at the highest level of her sport - the Olympic Games.  This summer she's qualified for a spot on Team USA in the Olympic Games in Rio de Janeiro,
CIS can't take the credit for Raven's success - that is all her - but we hope our support along the way helped her blossom into the Olympian she was always meant to be.
July 2016