Resilient Cheerleader
CIS of Pamlico County
Enrichment
Once dejected and stressed, Makayla now lives life with a joyful cheer and a positive outlook as a result of the services and support she received from Communities In Schools.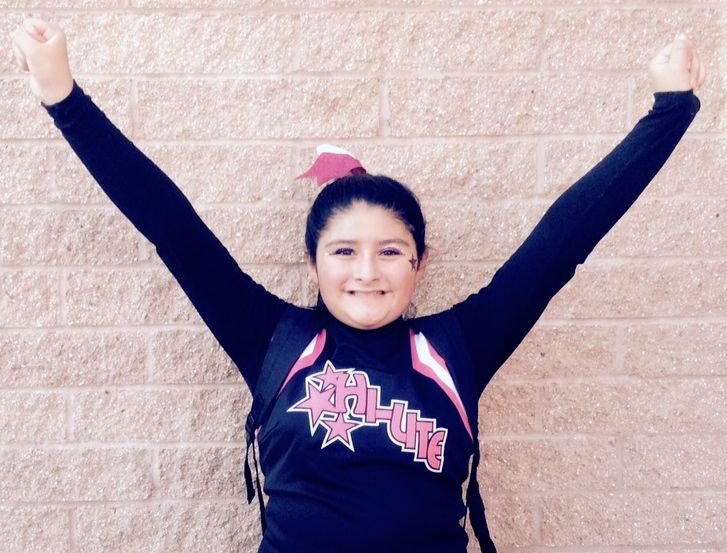 Why try when faced with difficult challenges? For Makayla, trying is part of her life and the foundation of her cheerful spirit every day.
Makayla is a member of Communities In Schools of North Carolina in Pamlico County WHY TRY Program – an evidence based resiliency program designed to motivate students to work harder at achieving their dreams.
At age five, Makayla and her family experienced homelessness as a result of poverty. When the family found stable housing, their joy was short lived. Their home was burned down and the family was once again without housing.
For years, she lived in a constant state of anxiety, fear and helplessness. She had trouble sleeping and concentrating in school while obsessively worrying about her siblings' safety.
"I really couldn't talk to anyone," Makayla said. "I wasn't sleeping and it was really hard for me to stay awake in school. It was stressful."
Despite her challenges, Makayla was determined to succeed in school and change the trajectory of her life. She approached CIS staff, Julie Rahm, for support. Julie immediately enrolled Makayla in CIS' WHY TRY Program, which has improved her confidence and equipped her with tools to better handle her challenges. According to Ms. Julie, she went from having no confidence and being shy to not allowing her story to define her. She has emerged as a leader of the group, using her story to motivate other students.
"She had so much that she was carrying around in her head and she needed someone to talk to," Ms. Julie remembers. "She had the courage to ask for help and was strong enough to make any changes needed. She is now a confident young lady. I am proud of her growth."
CIS staff has created a community of support around Makayla to foster her growth, development and healing. Part of that supportive community is Ms. Morris, Makayla's reading teacher who works diligently with her after school to improve her reading level. Also included are sponsors who financially support Makayla's cheerleading activities.
Cheerleading had become a continuous source of joy and happiness for Makayla. Being on the cheerleading team allows her to make new friends and build relationships with supportive adults. This year she is determined to master the back flip and other challenging cheer positions. She loves the thrill of cheering.
At 10 years old, Makayla has a fortitude for success. While college may seem far away, she is determined to attend a good institution, work hard and become a Kindergarten Teacher.
Although she still faces challenges in life, Makayla is not willing to give up anytime soon. She is determined to try harder each day.
- January 2016
25

CIS organizations and licensees in the U.S.

308

schools served last year

163,682

students served last year
Are You #AllinforKids?

 
Join our community of changemakers and stay connected with us! 
Learn more about the work Communities In Schools is doing to empower and equip every student to take on and tear down the barriers that stand between them and an equitable path to education. 
↑

TO TOP