Undocumented to Unstoppable
Communities In Schools of Los Angeles
Life Skills
With the support of CIS, our students stay in school, graduate and go on to bright futures. They all have a story about their journey to who they are today. Alumna Selena shares hers.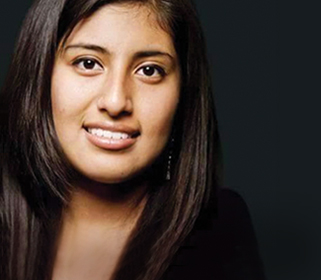 All In For Students Award Recipient 2016: The All In for Students Awards honors the exemplary dedication of CIS staff, educators, community partners and our alumni, who go all in for students, empowering them to stay in school, graduate and go on to brighter futures.
As an undocumented immigrant who came to the U.S. at age 2, Selena believed that college was out of her reach. Without a Social Security number, she couldn't apply for federal financial aid, couldn't qualify for imany available scholarships and couldn't get a job to pay her own way.
When she started high school, Selena was a marginal student with low grades and frequent absences—not because she couldn't do the work, but because she couldn't see the point. "I always wanted to be successful, but there was no motivation," she recalls. "Deep inside I felt like everyone else will go on and have a career and a life, but for me, it wouldn't happen."
Worst of all, perhaps, Selena had no one to confide in. "I just didn't know anyone that had the same experience. Everyone is very closed about their status, especially back then. So I felt alone. I felt really scared."
Then, in the 10th grade, Selena was referred to Karina Chavarria, a CIS of Los Angeles volunteer who would later become a site coordinator. In their very first meeting, Karina revealed that she, too, had been an undocumented student, yet she somehow found a way to make it through college despite all the barriers.
And just like that, Selena found the one thing she had always been missing: hope. "That's when everything clicked for me," she says. "The laws were even harder when [Karina] went to college, so I was sure that I could do it if she did."
From that point on, Selena says she spent "80 or 90% of my time" in the CIS office. She met with Karina every week to discuss attendance, behavior and course performance, and by her junior year, Selena was earning the A's and B's she would need for a good college. CIS arranged campus visits and workplace field trips to broaden her horizons. Karina also referred her to college access workshops and an after-school program run by UCLA.
With support from CIS, Selena quickly blossomed into a leader who was determined to give back. During her senior year, Selena co-founded a "High School Dreamer Club" to guide other undocumented students through the college application process. And as a freshman in college, she joined a group called Students United in Reaching Goals in Education (SURGE), which works to protect and provide for undocumented students on campus.
Now a senior at Cal State LA, Selena is aiming to pursue an MBA. She still doesn't know what the future holds, but she has no regrets about the past. "I've heard my parents say they're sorry I'm not a citizen, like my little brother and sister, who were born here. But I tell them I was destined to be undocumented, because it was my status that made me who I am today.
"I know how hard it is to start with zero. If there's a possibility I can make a difference in someone's life, I will go for it."
- January 2016
2

CIS organizations and licensees in the U.S.

10

schools served last year

11,979

students served last year
Are You #AllinforKids?

 
Join our community of changemakers and stay connected with us! 
Learn more about the work Communities In Schools is doing to empower and equip every student to take on and tear down the barriers that stand between them and an equitable path to education. 
↑

TO TOP