Last year, Ale survived a tragic car crash suffering brain trauma and the loss of a special friend. With the help of CIS, she got the academic assistance and mental health support she needed to begin the healing process.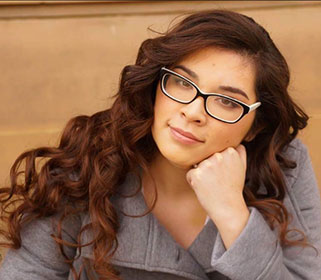 Ale had no idea that a summer road trip to Colorado to participate in a charity walk would change her life forever.
Returning home, Ale survived a fatal car crash that killed her boyfriend and his twelve-year-old sister.
"All I remember is the car hydroplaning on the slippery highway, and then spinning several times before hitting a semi-truck."
Although fortunate to have survived, she was seriously injured, suffering brain trauma and heart complications.
"Having to deal with my emotions was very difficult," said Ale. "After the crash I couldn't remember things. My head would hurt all the time."
Last Fall, Ale thought she was ready to return to high school in Ottawa, Kansas. While her friends were supportive, it was hard to concentrate on her work.  Everywhere she looked, she was reminded of her boyfriend.  
CIS site coordinator Cassie Myers quickly got involved. She set up a therapist to meet with Ale weekly, and brought in a grief specialist to help her work through the grieving process.
"Cassie was the first person I looked to for help. She believed in me when no one else did," said Ale. "When I would have difficult days, I could go into her office to relax, take a deep breath, do yoga, or just cry."
As the school year progressed, Ale was able to for the first time to focus on the future. Communities In Schools helped her prepare for college by paying for her ACT testing and working with her school counselors to complete her FAFSA and find scholarships.
"Ale has had quite a bit to work through," said Myers. "She is learning everyday how to cope with the loss she has had in her life and learn how to begin again after that loss. It has not been an easy road but Ale is on track."
This May, Ale will graduate from Ottawa High School with a 3.2 GPA. She has enrolled in Neosho County Community College to study business and dreams of becoming a business owner.
And although so much has changed in her life, one thing has not – her strong desire to help others. One of her goals in life is to continue volunteering for charities. 
- May 2015