Overcoming painful dental problems, low esteem and a difficult home life, Cheyenne is a shining example for overcoming obstacles. She has now graduated from high school and her future looks as bright as her smile.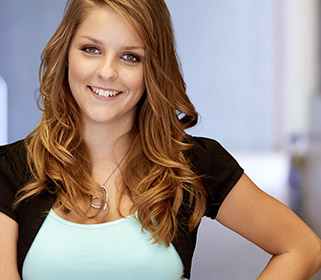 Some days, the pain Cheyenne felt was unbearable. Throbbing toothaches were disrupting her life. At night she couldn't sleep, and during the day she couldn't stop visiting the nurse's office. Her visible suffering was brought to the attention of Cassie Myers, the site coordinator at Communities In Schools of Ottawa, Kansas.
In meeting with Cheyenne, then a junior at Ottawa High School, Myers discovered a teen struggling with low self-esteem and living in an unstable home environment. She had recently moved to live with her older brother and his family. And because she could not afford it, Cheyenne's dental health had gone unchecked for eight years.
Myers immediately arranged for Cheyenne to receive free dental treatment. Finally, after several trips to the dentist, Cheyenne was pain-free. Then Myers helped Cheyenne apply for and receive state health insurance. Myers also supported Cheyenne's emotional well-being so she could refocus on school.
Myers met regularly with Cheyenne to discuss her plans for the future. She became a constant reminder that in order to build the life Cheyenne wanted, she needed an education. With hard work and determination, Cheyenne, who had finished her sophomore year with a 1.9 GPA, completed her final senior marking period with a 4.0.
"Before finding Communities In Schools, no one inspired me, no one motivated me," said Cheyenne. "Having them to rely on, and knowing someone was actually there for me, wanting me to graduate, felt good. Walking across the stage at graduation will be one of the biggest moments of my life."
In her senior year, Cheyenne joined a support group of girls facing similar struggles. This allowed her to blossom and build new leadership skills.
"I want to be there for other kids," said Cheyenne, who plans to become a child psychologist for at-risk kids. "I want them to know they have someone they can talk to and that they can rely on me."
Her site coordinator is extremely proud of her progress.
"There's been a total transformation," said Myers. "She changed from a quiet wallflower to a blooming, smiling student getting ready to go to college."