True to Herself
CIS of Ottawa
Academic Assistance
Gaining control of her fears and emotions, Kylee is headed to college this fall with confidence and great optimism about her future.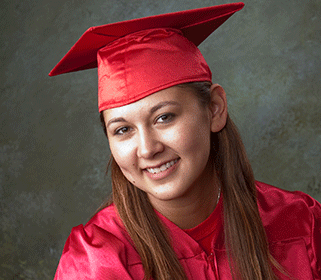 As a student at Ottawa High School, getting good grades wasn't the only thing Kylee Bishop had to deal with. She struggled with depression, low self esteem and was bullied. Anxiety attacks — complete with rapid heart palpitations and her body shaking uncontrollably — were a daily occurrence. Overwhelmed, she gave up on herself and school.
Several issues, that started bubbling up during Kylee's childhood years, caused trauma, and were threatening her academic success. Home life was erratic, and Kylee had a strained relationship with her father. Then when she was 11, her mother and older brother were in a car accident that left them both severely injured. Her family needed her so Kylee spent most of the year devoting all of her time to care for them.
One day during her freshman year of high school, the bullying went too far, and Kylee pushed back, literally, shoving another student against the wall. She was referred to the Communities In Schools of Ottawa and site coordinator, Cassie Myers. At first Kylee resisted any help.
"Every time she came to take me to her office, I rolled my eyes because I thought it was pointless," she said. But after a breakup with her boyfriend, Kylee had a breakdown, and the two-hour conversation that followed with Myers was a game changer.
"After that I started to see her as someone I could trust and talk to. She would always tell me how strong I was and how good of a person I was. Just seeing her everyday would make me smile."
With the help of CIS student supports, Kylee worked on getting better grades and improving her GPA. She met with Myers for weekly check-ins and stayed after school to study. She participated in a girls discussion group where she learned to build resiliency, received college and career counseling, and started to feel more confident. She learned to manage her health issues with counseling and medication. This spring all her hard work will pay off when Kylee becomes a high school graduate.
"When we first met she would say, I can't — get my grades up, do any better, anything. She seemed to just be surviving," said Meyers. "Now she says, I'm going to try, I'm going to give it my best. I think that's the biggest change I see in her — now she truly sees her potential."
Inspired by the nurses who cared for her brother and never gave up on him, Kylee plans to pursue a career as an RN. She has a part time job as a dietary aid at a local nursing home. And she's already received her acceptance letter and will be attending Neosho County Community College.
"Honestly if it wasn't for CIS I probably would have dropped out by now," said Kylee. "But instead now I'll be the only kid in my family to go to college."
- April 2016
7

CIS organizations and licensees in the U.S.

34

schools served last year

27,764

students served last year
Are You #AllinforKids?

 
Join our community of changemakers and stay connected with us! 
Learn more about the work Communities In Schools is doing to empower and equip every student to take on and tear down the barriers that stand between them and an equitable path to education. 
↑

TO TOP