Turning Dreams into Realities
CIS of San Antonio
Family Engagement
With the support of CIS, our students stay in school, graduate and go on to bright futures. They all have a story about their journey to who they are today. Alumna Naedean shares hers.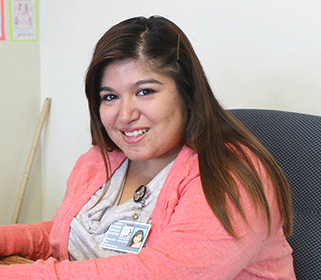 In the third grade my parents were going through a divorce and because of this transition, my performance in school was dropping. I had always been a star student, so my teacher recommended me to Communities In Schools of San Antonio. When I first met with Miss Yvonne, our site coordinator at my school, and spoke with her about the changes in my family. It was incredible having a one on one relationship with a caring adult, who wasn't a part of my family chaos. It gave me a safe place to sort out my emotions and get my learning back on track.
In addition to individual support, I also was involved in a group of my classmates who were in similar family situations. We worked on coping mechanisms and communication strategies, which to me, just felt like playing games with my friends. Miss Yvonne not only helped me, but my whole family, getting us involved with a community organization that provided us with holiday dinners when we couldn't afford our own.
I stayed involved with CIS throughout my education, and throughout the changes in my childhood. Moving to a different school in middle school got me connected with Miss Red. The passing away of close relatives in high school sent me to Miss Kim. Each of these people saw the potential in me to excel in and out of the classroom. My proudest accomplishment was graduating high school as my class salutatorian and being the first in my family to attend and graduate from Baylor University. I worked as a program manager for CIS of The Heart of Texas, and now I am a site coordinator at CIS of San Antonio.
CIS prepared me to be a role model for others. I want to share my story with others and assist in making others' dreams a reality. I believe strongly in the power of young people, and that our involvement with CIS should not end after graduating.
-May 2016
27

CIS organizations and licensees in the U.S.

920

schools served last year

802,192

students served last year
Are You #AllinforKids?

 
Join our community of changemakers and stay connected with us! 
Learn more about the work Communities In Schools is doing to empower and equip every student to take on and tear down the barriers that stand between them and an equitable path to education. 
↑

TO TOP