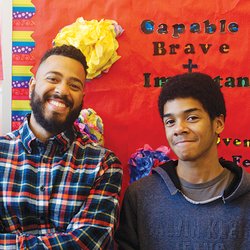 Communities In Schools (CIS) is the nation's largest organization dedicated to empowering at-risk students to stay in school and on a path to a brighter future. Students face a barrage of social emotional challenges that impact their learning and threaten their future success. Bullying, grief, difficulties at home, and food and housing insecurity can all keep a student from doing their best in and out of the classroom. The ability to positively interact with peers, handle setbacks, manage emotions, and cope with loss are intrinsically connected to learning and classroom success.
But by working directly inside schools across the country, we connect kids to caring adults and community resources designed to help them succeed. We do whatever it takes to ensure that all kids—regardless of the challenges they may face—have what they need to realize their potential. Because we're in schools and in the lives of our students, recognizing their social emotional needs as well as their academic development, we're in a unique position to uplift their voices and stories.
---
---
---
---
The Reach
Communities In Schools operated in 26 states and the District of Columbia. In 2016-2017,
CIS
served 1.56 million students working in 2,300 schools and 364 school districts across the country. Our network is comprised of 137 organizations including state offices and licensed partners.
Our Students
Students come to Communities In Schools for a variety of different reasons, but each story shares one thing: the impact of a caring adult. By putting caring adults in schools who are equipped to help students navigate everything from homework to homelessness, Communities In Schools empowers students to take control of their stories.