Ways to Help
You can make a lasting difference in the life of a child.

Raise your voice today on behalf of the more than 7 million young people at risk of dropping out of school.

Our 70,000 volunteers make it possible for Communities In Schools to serve more than 1.25 million young people each year.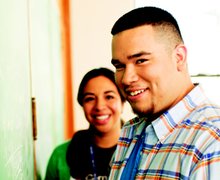 Hope Comes Home
Two years ago, Joel was a teen with a hot head. Today he thanks Communities In Schools for helping him overcome dispiriting obstacles and achieve academic success.
Beyond the Classroom Blog
Today's blog post is by Communities In Schools President Dan Cardinali, who writes regularly for The Huffington Post. A recent Child Trends study affirms the effectiveness of integrated student services (ISS) in improving education outcomes. But what challenges and opportunities does the ISS movement face?

Students from Communities In Schools of the Nation's Capital Joined President Obama for the launch of 'My Brother's Keeper,' a national initiative to support young men of color.

Ellen London's career took a detour, and it's benefited young people in the nation's capital.
Visit the Blog