Ways to Help
You can make a lasting difference in the life of a child.

Raise your voice today on behalf of the more than 7 million young people at risk of dropping out of school.

Our 70,000 volunteers make it possible for Communities In Schools to serve more than 1.25 million young people each year.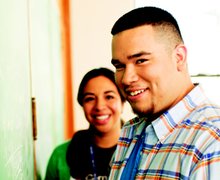 Hope Comes Home
Two years ago, Joel was a teen with a hot head. Today he thanks Communities In Schools for helping him overcome dispiriting obstacles and achieve academic success.
Beyond the Classroom Blog
Poverty is making school reform results difficult to achieve. Public education is everyone's business, and reforming our sense of community will lend a hand in reforming our schools.

"Since 2008, CIS and our local affiliates have received some $14.2 million in funding from AT&T, whose insistence on reliable metrics has helped to push us toward gathering ever more useful data."

"This award is an opportunity to honor those who are the best at what they do."
Visit the Blog