Ways to Help
You can make a lasting difference in the life of a child.

Raise your voice today on behalf of the more than 7 million young people at risk of dropping out of school.

Our 70,000 volunteers make it possible for Communities In Schools to serve more than 1.25 million young people each year.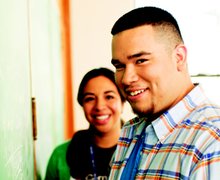 Hope Comes Home
Two years ago, Joel was a teen with a hot head. Today he thanks Communities In Schools for helping him overcome dispiriting obstacles and achieve academic success.
Beyond the Classroom Blog
"I want to put supports and interventions in place at schools so that students will not be displaced."

My visit to Chaparral High School reminded me that for some kids, even Main Street looks like a dream destination -- and they don't have the bus fare to get there.

Even while she was recovering from breast cancer, Brenda Middleton was taking care of her students.
Visit the Blog