Welcome to the CIS Alumni Leadership Network
Communities In Schools is thrilled to announce the launch of our Alumni Leadership Network (ALN) for all CIS students who have graduated from high school. Whether you are pursuing college or career, have questions or answers, the ALN will continue the community of support you experienced with CIS while working toward your high school diploma. You'll be surrounded by alumni who will cheer you on when you succeed and give you advice when you need it. The best part about the ALN? It was created for alumni, by alumni. Fourteen alumni led the creation of the ALN and all the opportunities you will get access to, including paid leadership opportunities, access to networks within and outside CIS and monthly online trainings on smart spending, job skills, public speaking and more. Sign up today and join our community on LinkedIn.
On behalf of the entire CIS network – we're so happy you're here!
Meet Our Alumni Executive Committee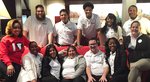 For alumni, by alumni. For the last year, 14 alumni from across the country have lead the strategy behind our Alumni Leadership Network. No matter what life stage you are in – college, career or in between, our alumni leaders have kept you in mind. They'll be your biggest cheerleaders, supporters and resources in our alumni network, and they look forward to meeting you!
Alumni Leadership Network Opportunities
Interested in paid leadership opportunities? Want to learn how to nail that next job interview or hear tips on succeeding in your first year of college? Then you'll definitely want to participate in the ALN's offerings. You must be a member of the ALN community on LinkedIn to take part in these opportunities, which we will promote here and on LinkedIn.
Current Opportunities