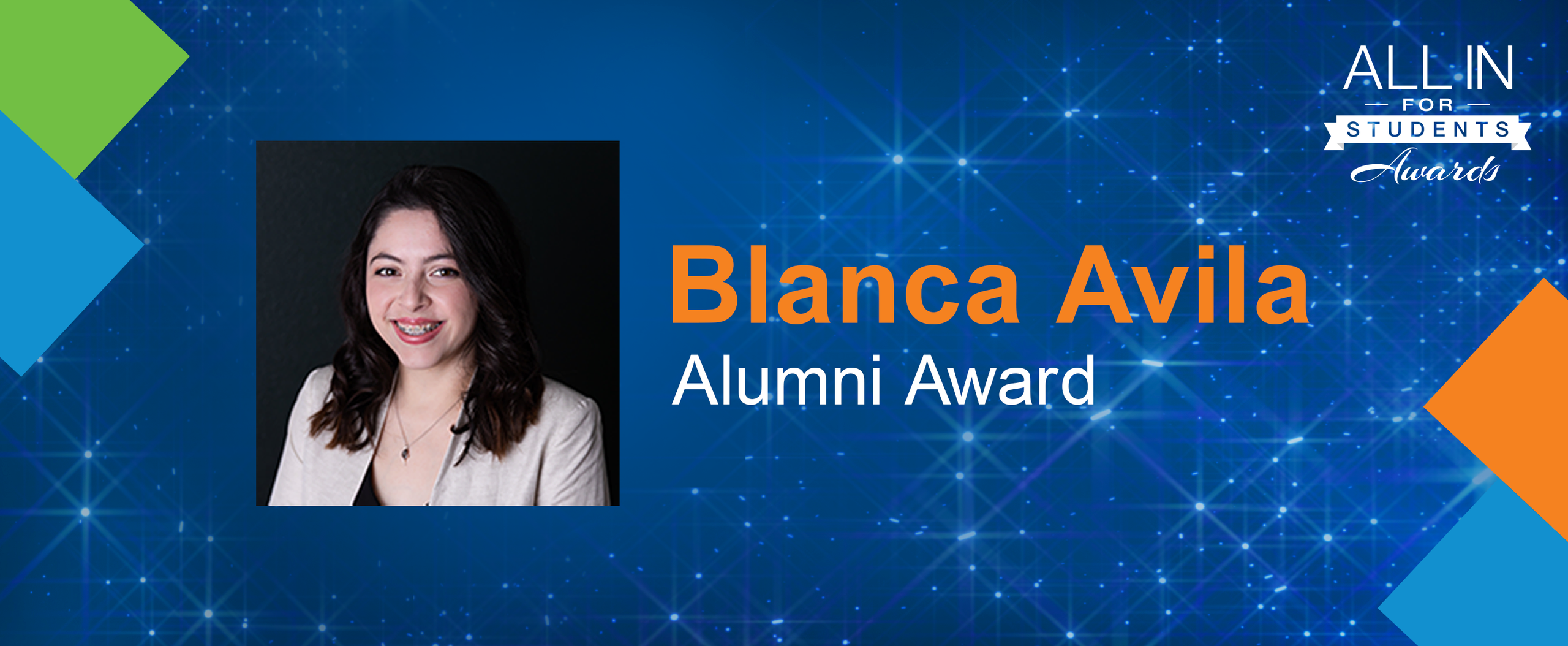 Blanca: Taking a Leap of Faith
By Communities In Schools | Oct. 20, 2022
Blanca Avila, an alumna from CIS of South Central Texas, received the 2022 All In for Students: Distinguished Service Alumni Award for her exemplary service of giving back to her community and long-term commitment she has demonstrated to improving the lives of others.
Blanca's first memory of Communities In Schools® (CIS®) was when she was in 1st grade in Marion, Texas, and she was introduced to CIS Site Coordinator Melissa Avalos. Blanca and her family had moved from Mexico to the United States one year prior.
"My family had only been in the states for a little over a year. CIS really helped with that adjustment. The site coordinator at the elementary school helped us with the transition, adjusting to a whole new culture, translating everything, and helping us feel comfortable in this whole new environment.
CIS through elementary school helped us a lot with all of our supplies with anything we needed. That was the most exciting time because that was the only time of the year we would actually get anything brand new," said Blanca. 
Blanca participated in CIS programming from 1st-5th grade. At that time, there was not a Site Coordinator at the middle school, so Blanca began receiving CIS services again when she entered 9th grade. Blanca recalls going to Mrs. Copeland, the CIS Site Coordinator at Marion High School, for individual, social-emotional support related to home issues and difficulty building friendships. "She was someone I could trust and confide in," Blanca noted. 
Her primary participation with CIS in high school was during her senior year with Project Success. She met with Liberty Nicholas, CIS Director of College & Alumni Initiatives, once per week during lunch and would even stay after completing classes for the day to work on college applications. 
Despite numerous challenges, Blanca was the first person in her family to graduate high school. "Being the first one in my family to graduate high school, [CIS] helped me open that door."
Blanca was accepted at Texas State University in San Marcos, Texas, and received a college scholarship based on her academic performance in the top ten percent of her class. Blanca said, "Ms. Liberty had the biggest impact on my life and I wanted to have that same impact on someone else," so she selected Social Work as her major. 
Ms. Liberty shared that, "After that first summer in college [Blanca] came and worked for CIS as a boot camp leader and during that summer, she transformed into a dynamic leader, who found her voice."
CIS helped me open up and build leadership skills and confidence in myself. I graduated with my Master's Degree in Social Work in 2018 and in 2019 I came back to Marion High School as the CIS Site Coordinator. And I have been here ever since.
As the site coordinator at Marion High School, Blanca supports a high level of mental health crises and has saved lives with her interventions and support of students and families in her hometown community. In the community, Blanca participates in local family resource events such as family festivals, San Antonio Food Bank distributions, and a church that provides food backpacks each week to the school district campuses. 
She also works closely with a licensed, group foster home placement serving abused and neglected children/youth while they attend school; providing basic needs items, academic and attendance support and addressing mental health/social emotional needs. 
Blanca continues to fulfill the mission of CIS through her site coordinator position and service to her community.
"To be all in for kids means to be there and love them and maybe even be someone who will hear their story for the very first time… To all the students receiving support and services from Communities In Schools, it's OK to take that leap of faith and to trust someone—a lot of good and change can happen from that." 
Thank you, Blanca, for showing what it means to be #AllinforKids! Watch Blanca's story below.