PODCAST: How Do Wraparound Services Impact At-Risk Youth?
By Communities In Schools | March 16, 2022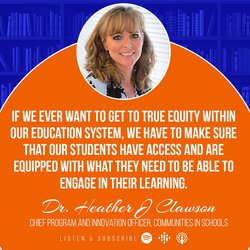 In the latest podcast episode of For What I Want to Know, Dr. Heather Clawson, Chief Innovation and Program Officer at Communities in Schools, joins Kevin P. Chavous to explore what more we can do to ensure at-risk kids receive the support they need.
Studies show that children who truly connect with their schools go on to live healthier, happier lives. So, what are we doing to build and nurture those connections with at-risk youth? What steps are we taking to ensure students have basic needs like food, clothing, and shelter? And how can we bridge the divide between our schools and the community resources that positively impact children's lives?