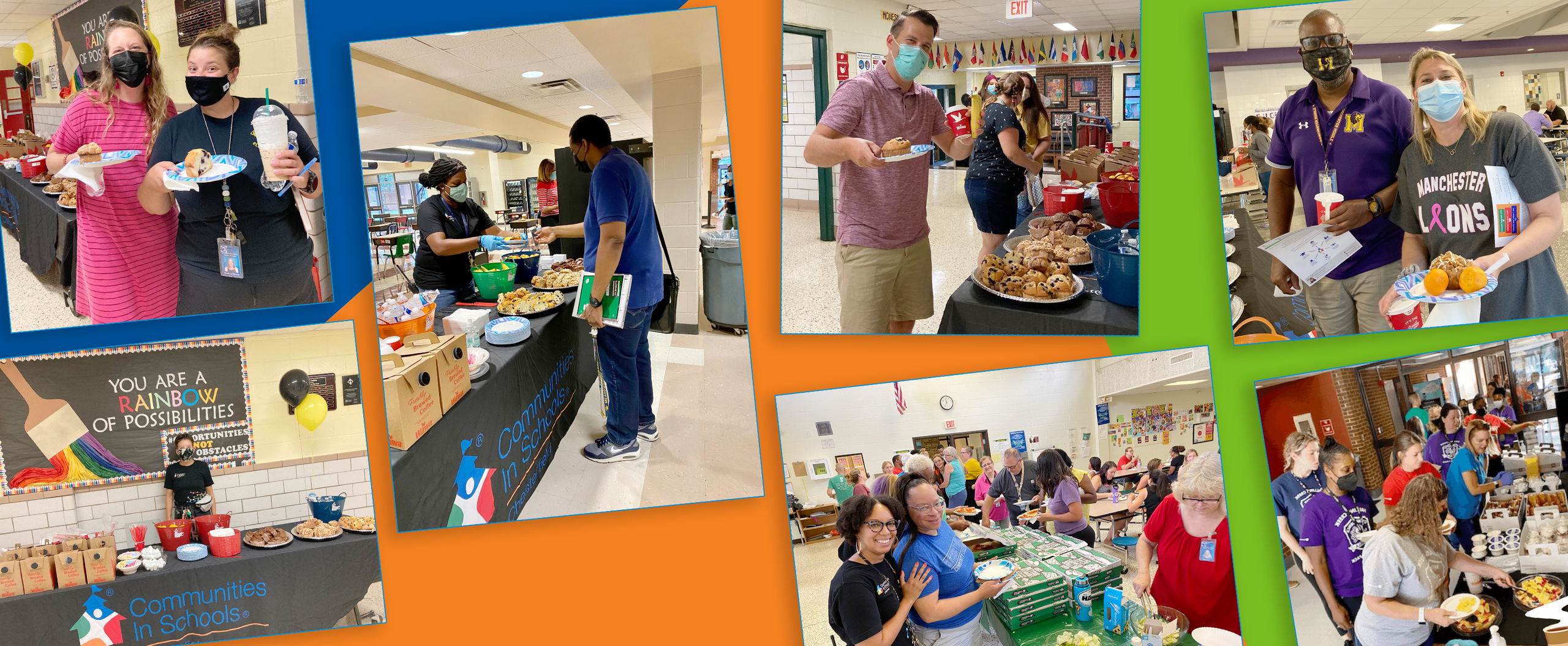 Kicking Off the School Year with Gratitude for Teachers
By Communities In Schools | Aug. 10, 2023
It's almost time for a new school year in Chesterfield County's public schools! But before the halls are filled with returning students, Communities In Schools® (CIS®) of Chesterfield has a special tradition to uphold.  
During the annual Teacher Work Week in late August, the staff at CIS of Chesterfield kicks off a week of gratitude for teachers and staff at 13 schools across Chesterfield County. Every year, the team at CIS of Chesterfield visits each of the schools they serve, bringing meals and treats for all the hardworking staff members.  
These meals of gratitude for teachers and staff are an important celebration and opportunity to build connections. Together, teachers and staff at Chesterfield Public Schools will work with CIS to build support around more than 13,000 students at 13 schools this year.  
The back-to-school breakfasts are such a cool way to come back to the building for a new year, and reminds us that CIS is here with us as we educate and support our awesome students.
-Ila Cartwright, Bensley Elementary School Counselor
CIS embeds staff members, known as site coordinators, inside schools who work in tandem with the schools' principals, teachers, and partners to bridge gaps and provide help to students in real time. As new teachers join Chesterfield schools, they are introduced to their school's dedicated CIS site coordinator during the Teacher Work Week. These site coordinators will be allies for teachers throughout the year, ensuring that every student has the support they need to succeed in the classroom. 
CIS of Chesterfield and Chesterfield Public Schools work together to support equitable outcomes for students of color and students that live in impoverished communities. These students tend to experience the most severe challenges and barriers from poverty, trauma, and other stressors, which research directly links to lower graduation rates. CIS of Chesterfield focuses on three key indicators of dropping out: low attendance, behavioral challenges, and poor academics.  
Having CIS in our building at Bensley Elementary is game changing for our staff and students. Our CIS Site Coordinator is always there to support our entire Bensley family.
-Ila Cartwright, Bensley Elementary School Counselor
Together with teachers and staff, CIS of Chesterfield saw dramatic improvements in the 2021-2022 school year among the students they served: 78% saw improved attendance, 91% had better behavior at school, and 86% of students had better academic performance. And, importantly, 95% of students served were promoted to the next grade or graduated.  
As we approach a new school year, CIS Chesterfield is making sure that teachers feel valued, supported, and ready to take on the year with CIS by their side.  
 
Learn more about CIS of Chesterfield.
Get Involved! Find your local CIS affiliate.