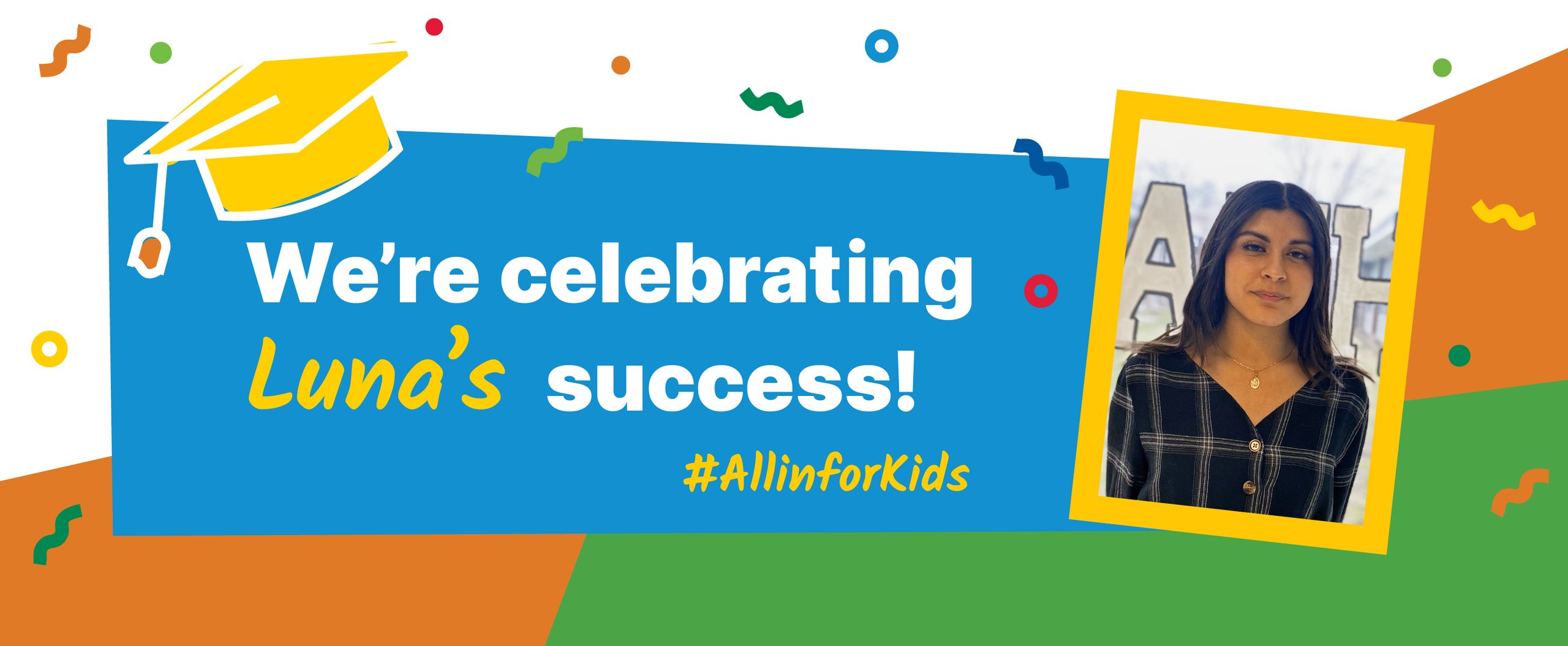 Luna: Paving the Road to Success
By Communities In Schools | April 14, 2023
This year's graduating seniors have had their entire four years of high school impacted by the COVID-19 pandemic. During that time, uncertainty and social isolation have been challenges for many of our high school students. At Mather High School, on Chicago's far North Side, Communities In Schools® (CIS®) of Chicago's Senior Student Supports Manager Stephanie Estrada has been a steady, trusted presence all four years of the pandemic. One of the students she's worked with throughout that period – Luna – is graduating this June. Here is her story:
Luna is a 17-year-old senior from Chicago's Northwest side. As a freshman, graduation didn't always seem possible for Luna. Her father and siblings had left home, and when the pandemic hit, her mother lost her job not once but twice.  Luna could only make friends online during this time, and sometimes her new acquaintances caused problems. 
When Luna stopped attending remote classes, Ms. Estrada started weekly check-ins on Luna's academics and emotional well-being and helped her set goals to work toward. With that support — and the ongoing supportive guidance and help of teachers and other resources in her school — Luna's grades improved. 
Luna's tenacity throughout the last four years cannot go unnoticed. She has overcome several challenges and has done so with grace. Her hard work to become the student and person she aspires to be is admirable and working with Luna on establishing healthy coping skills, setting healthy boundaries in her relationships, and cheering her on as she moved through high school has been a humbling and wonderful learning experience. Luna is capable of achieving great things and I know she has paved herself a road to success after graduation.

–Stephanie Estrada, CIS Senior Student Supports Manager 
Ms. Estrada also helped Luna's family connect with CIS' community partner network to access warm clothes and gift cards. Luna joined school sports and continued working with Ms. Estrada throughout her high school years to improve her grades and get back on track academically. With graduation approaching, Luna now has multiple offers to attend four-year universities. 
"I am proud of where I am today. I had some hard times throughout the last few years and struggled with many different issues, but today I am stronger. With the help of Ms. Estrada I learned new things about myself and new things to help me cope with my issues. She has been so helpful in making me more comfortable with myself and more confident. I am excited for the future and whatever is coming after high school because I know that I can handle it and I know that I can move forward and be successful," said Luna.