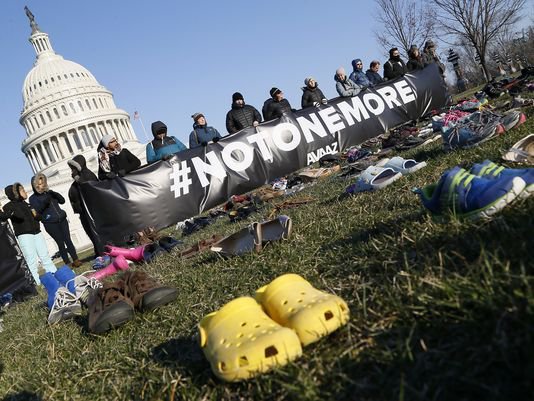 OPINION: School shooting conversation must go beyond guns
March 24, 2018
Attending funerals of gunned-down children and colleagues should not have to be part of an educator's job. But in too many communities, that's the reality today.
Children should not have to pass through metal detectors to go to school. Nor should teachers should have to arm themselves to keep students safe. Safety drills and lockdowns are only school rituals because we have failed as a nation to address the root causes of violence.
Every young person in America deserves to live without fear of gun violence. The two of us will be taking part in the March for Our Lives in Washington, D.C., this weekend because the young people leading this charge are onto something. In our public education work at the city, state and federal level, we've seen what it takes — and what's missing — to help our children stay safe and, ultimately, to have an environment in which they can learn.
In 2018, this debate is about guns, yes, but it must be about much, much more.
We have spent decades in schools and in our communities, and we believe sensible gun policies must be accompanied by efforts to improve school climate, help families dealing with trauma and give young people opportunities to learn and succeed.
In our past lives as U.S. Secretary of Education during the Obama administration and State Superintendent of Schools for Nevada, we both had the gut-wrenching responsibility of responding to school shootings. We also have seen that for many students, gun violence is a threat every day. More than 3,100 children and teens were killed with guns in 2016, according to the Centers for Disease Control and Prevention. And though Saturday's march sprung from a tragic shooting on a school campus, the vast majority of that violence happens away from the schoolyards. On the steps of a church. Going to or from school. On the way to the corner store.
Take Chicago, which had 2,786 shootings last year — in which young black teen boys and men were the most likely victims. A less well known statistic is this: In 2014, 19% of Chicago's black 16- to 19-year-olds and 46 percent of the city's black 20- to 24-years olds were not working or in school. Chicago CRED works with primarily black and Hispanic young men like these who have shot others or been shot — often the same young people — to give them a chance to break the cycle of violence. They are placed in jobs that can keep them off the streets and out of prison. These young men say a decent wage is what they need to exit street life and enter the legal economy. But they also need life coaches, housing, group counseling and because many are young dads, parenting support.
Ideally, our nation would put these kinds of supports in place so fewer young people would even get to the point where they need interventions. That would mean exhaustively working to support all the needs of children — from basics like food, clothing and housing to mental health care, tutoring and programs that help them develop socially and emotionally. It also means reaching out to troubled families who need help staying afloat.
More: Students are right on gun control, and Republicans are dangerously wrong: Dianne Feinstein
POLICING THE USA: A look at race, justice, media
Breaking down barriers for students is what affiliates of Communities In Schools and other partners do every day. They work with administrators and teachers to make school a welcoming place students want to be; reduce the incidence of behavioral problems, bullying and violence; and overcome other obstacles that keep children from learning. These programs can supplement the efforts of school district counselors and social workers, who are often stretched thin, by placing trained social workers in schools or linking families to services in the community.
We hope the momentum being created by the Parkland, Fla., students and their young allies from Chicago, Washington, D.C., and beyond will lead to stronger school safety policies. No, not guns in the hands of educators, but solutions that too often don't merit headlines: more social workers in schools, fewer guns in the hands of people who intend violence, and more funding for mental health services, especially in rural areas where they are sorely lacking. 
These issues have been studied and debated to exhaustion. In communities across the nation, we have seen the senseless anguish — individual young lives cut down every day, more just this week in Maryland — as well as mass horrors like Parkland that shock us out of complacency.
Keeping our children safe shouldn't be about the narrow solution of "hardening" schools. That would ignore all that we know about the many communities across the nation plagued by violence — and we know a lot. Saturday's march is a moment, but the brave young people of this rising generation are counting on us to turn it into what these communities deserve: a movement.
Arne Duncan is managing partner of Chicago CRED, a nonprofit project that links at-risk young men to jobs. He was U.S. Secretary of Education on Dec. 14, 2012, when the Sandy Hook Elementary shooting occurred. He also is the former CEO of Chicago Public Schools. Follow him on Twitter: @arneduncan. Dale Erquiaga is President and CEO of Communities In Schools. He was Nevada's State Superintendent of Public Instruction when a teacher was killed and two students wounded at a middle school in Sparks, Nevada. Follow him on Twitter: @DaleErq.