Welcome, CIS Alumni
The Communities In Schools® (CIS®) Alumni Leadership Network (ALN) is for all CIS students who have graduated from high school. Whether you are pursuing college or career, have questions or answers, the ALN will continue the community of support you experienced with CIS while working toward your high school diploma. You'll be surrounded by alumni who will cheer you on when you succeed and give you advice when you need it. On behalf of the entire CIS network – we're so happy you're here!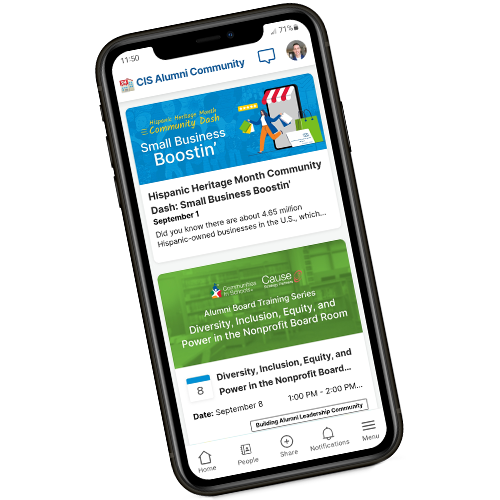 Join Our Alumni Online Community
The CIS Alumni Community is an engaging, online space where CIS Alumni and CIS Staff can connect, share, and build relationships in a safe, welcoming, and inclusive environment. It will continue to evolve over time providing alumni with relevant communications, upskilling opportunities, events, affiliate groups, learning and support resources, networking, and more.
Are You #AllinforKids?
Join our community of changemakers and stay connected with us! 
Learn more about the work Communities In Schools is doing and help us set students up for success in the classroom and beyond.
↑

TOP