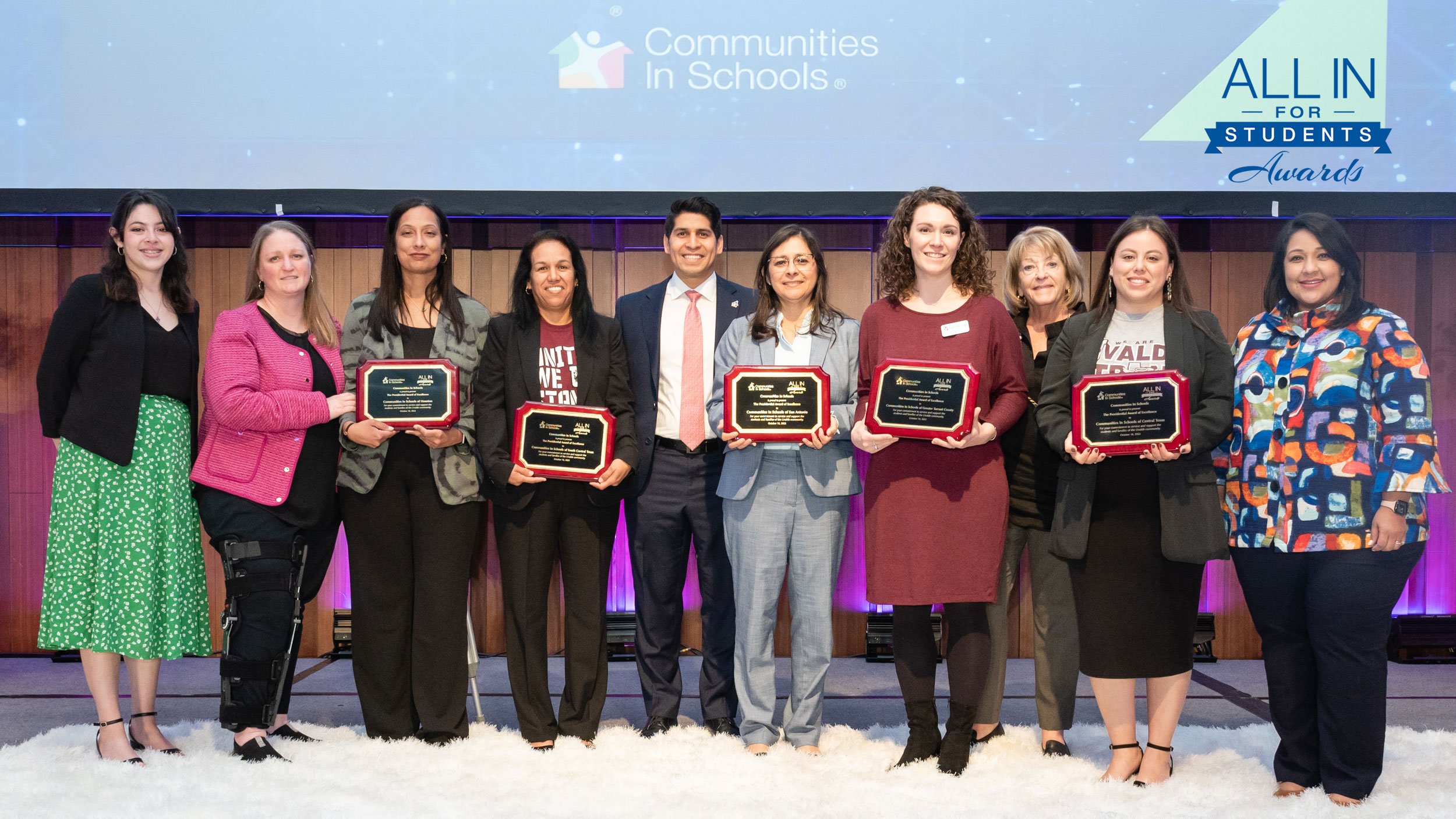 CIS Support in Uvalde
By Communities In Schools | Nov. 7, 2022
Communities In Schools Affiliates of Central Texas, Houston, San Antonio, South Central and Greater Tarrant County received the All In for Students: Presidential Award of Excellence for their leadership and commitment that supported community recovery efforts in Uvalde, Texas.
Earlier this year, on May 24, a tragedy struck Uvalde, Texas when a school shooting at Robb Elementary School resulted in the senseless deaths of 19 children and two teachers. This hit close to home for Communities In Schools® (CIS®), especially in Texas, where we have 27 affiliates serving over 1,500 schools and more than 1.3 million students. 
That same day, National President & CEO Rey Saldaña reached out to CIS of San Antonio, where clinical staff were already providing support to students and families at a crisis triage center for students and teachers in Uvalde, TX. At CIS, we are committed to doing whatever it takes to ensure students and families have the support they need to be successful and overcome obstacles to learning. Our support extends beyond the classroom and sometimes includes supporting neighboring communities during times of tragedy. 
"We work with students in need every day, but this stretches us to a pain we never imagined," said Saldaña.
Although Uvalde Consolidated Independent School District (UCISD) was not a district that previously had CIS supports, five CIS affiliates in Texas stepped up to support the district through their summer school programming. CIS of San Antonio, CIS of Central Texas, CIS of Houston, CIS of South Central Texas, and CIS of Greater Tarrant County decided to go All IN to support Uvalde by providing proper resources and mental health support needed to aid in their local recovery efforts.   
For the month of June, these affiliates worked together to rotate their teams through the district's summer school program ensuring a continuum of support to the Uvalde school community. Team members from the individual affiliates spent one week at each of the five designated summer school campus sites, where their staff worked alongside academic leaders, district counselors, and summer school teachers. 
CIS staff utilized a psychological first aid framework to deliver support services to UCISD students, families, and staff across five campuses to enhance resiliency, develop coping strategies for stress reduction, and provide a safe space to process grief and trauma experiences. They also provided students and school faculty with information and referrals to help them access long-term mental health care. 
CIS of San Antonio led the entire support initiative and provided additional staff to help coordinate CIS's collective work and be a resource for the other affiliate staff for the remainder of the summer school program. 
Thank you to every CIS employee who volunteered their time to provide critical resources and support to Uvalde's recovering community. We're grateful to our Texas affiliates for showing what it means to be #AllinforKids. Watch the affiliates' story below. Many thanks to Poet Ryan Lugalia-Hollon for writing the poem used in the video.